Kevin Durant needs consistent help from the other Kevin
Without Russell Westbrook, the Thunder are turning to Kevin Martin to turn up his game. When he does, it works out great. When he doesn't, the Thunder are left searching.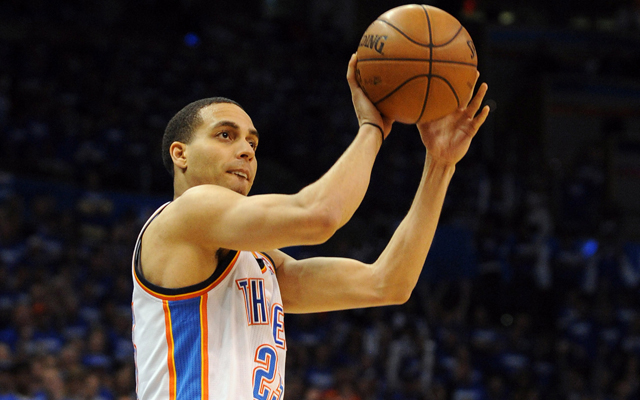 OKLAHOMA CITY -- It was a simple answer from Nick Collison that really said it all. 
Asked after the Thunder's 99-93 Game 2 loss to Memphis if Kevin Durant has to do too much in crunchtime, Collison simply said, "I mean, what are we going to do?"
That's the question. That's the question that has to have an answer if the Thunder are to advance past the second round and get a chance to defend their Western Conference crown. Without Russell Westbrook, Durant has been nothing short of spectacular -- italicized to emphasize extra spectacular-ness -- but even despite his brilliance, he can't carry the Thunder by himself. 
He got close to pulling it off in Game 2. In 43 minutes he scored 36 points on 11-21 shooting, pulled in 11 rebounds and dished out nine assists. It was painfully obvious that when Durant sat, the Thunder were like a dad at a Justin Bieber concert -- just trying to get through it. Just trying to stay alive. The Thunder labored to build a trim five-point lead heading to the fourth quarter. Scott Brooks saw it as an opportunity to give Durant a little blow, and OKC promptly watched Memphis go on a 9-2 run to start the final frame, before Durant checked back in and ended the run with a jumper. 
The final three minutes though, with the Thunder ahead by a point, Durant missed two 3s and had a critical turnover. It was a poor finish for one of the league's best finishers, but like Collison said, the Thunder didn't have a choice. It's live by KD, die by KD. 
"Well I could've done more," Durant said. "I can always do more.
"I can always be better."
And he'll have to be, unless he gets some help. 
Consider: Durant's only helping hand came from Derek Fisher, who scored 19 points on 6-9 shooting. The rest of the team: 13-40, 38 points. The focus on that kind of stat comes back to the absence of Westbrook, but that overlooks the fact the Thunder still possess some top tier talent. Serge Ibaka hit 5-12 shots for 11 points, which is not the worst. Westbrook's stand-in, Reggie Jackson, scored 10 on 3-8, which is acceptable. 
Which leaves Kevin Martin, one of the league's purest and most efficient scorers, a player that has raised his game from third/fourth banana in the regular season to Durant's scoring sidekick without Westbrook. In Westbrook's place, Martin has been elevated as the Thunder's No. 2 scoring option, the guy best suited to supplement Durant, and take a little offensive pressure off him. And he's done a quality job of it recently. Martin's two previous games before Game 2: 50 points (25 in each) on 15-27 shooting. Not coincidentally, the Thunder won both of those games. 
Martin's Game 2, though: six points, 2-11 shooting. Not coincidentally, the Thunder lost that game. Before that, he tossed up a 1-10, three-point performance in Game 5 against the Rockets. And not coincidentally, the Thunder lost that game, too.
The Thunder are a team trying to reinvent and rebuild itself on the fly without Westbrook, who is as dynamic and aggressive a player as there is in the league. He's their emotional punch, their sparkplug, their heartbeat. He's a relentless ball of energy that doesn't go from zero to 100. He starts at 100 and stays there for the 40 minutes he's on the floor. 
And most importantly, Westbrook always shows up. He may shoot the ball poorly. He may turn it over eight times. He may make decisions that make people want to spike their remote like a football. But he always, always, always shows up. 
You can't say the same about Martin. Again, a brilliant scorer with an incredible knack for putting points on the scoreboard. But that competitive edge, that toughness, that spirit, that I'm-not-gonna-stop-coming-at-you mentality, he doesn't have it. That's not a knock on Martin. There are very few Russell Westbrook's in the NBA. But in this spot, the Thunder can't afford for Martin to no-show. If he's going to fill Westbrook's scoring shoes, he has to do it every night. He can't drift out, can't coast, can't have bad nights. He has to show up. 
Durant can lift the Thunder for the most part. He's a tireless player that doesn't let a 45-minute haul catch up to him. He knows his role has change without Westbrook, and he's risen to the occasion and then some. 
"I can carry as much as coach needs me to carry," he said after Game 2. "I made those shots last game, I missed them this game. So I'm going to continue to keep taking them."
But Durant shouldn't have to. And he can't continue to. His greatness only goes so far. We all painfully and frustratingly saw it in Cleveland with LeBron. You can play an unbelievable game, and it not be enough. Durant has to have help, and the man that has to consistently provide it is Kevin Martin. If he scores, the Thunder win. Simple as that.
The Bulls lead by three with 10 seconds left but lost 116-115

Larry Nance Sr. starred for Cleveland from 1988-94

The hotline comes in the wake of the 'Sports Illustrated' investigation into the Dallas Ma...
Giannis, who spent last weekend in L.A. for the All-Star Game, says he loves 'low-key' Mil...

We have all the scores, highlights and news from the first day back from the All-Star brea...

Smart, set to return Friday, said doctors told him he was very lucky that the glass did not...