Kevin Durant on Blazers: 'We don't like them and they don't like us'
After dropping 36 points in a win over the Portland Trail Blazers, Oklahoma City Thunder soul-eater Kevin Durant says he doesn't like the Blazers and they agree.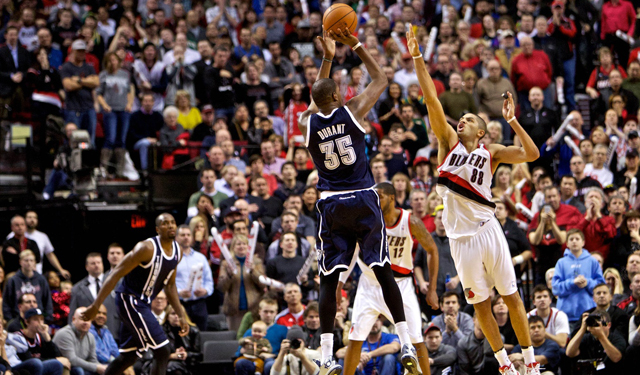 We don't have a ton of rivalries in the NBA right now, but there could be one developing in the Northwest division. After Oklahoma City Thunder soul-eater Kevin Durant helped his team beat the Portland Trail Blazers by dropping 36 points, he had no problem letting the media know that while he respects the Blazers as a team, he doesn't like them. He also knows that the Blazers don't like the Thunder.
According to Joe Freeman of The Oregonian, Blazers' All-Star LaMarcus Aldridge agrees with Durant's assessment and added that the Blazers are much more about winning games than making friends on the court. Ladies and gentlemen, we've got ourselves a rivalry brewing:
Kevin Durant, the NBA's leading scorer, fired the first blow in the visiting locker room by revealing the Thunder's disdain for the Blazers.

"We respect this team, they respect us," Durant told reporters after burning the Blazers with 36 points. "But we don't like them and they don't like us. That's point-blank."

A few minutes later, down the hall in the home locker room, someone relayed Durant's comments to Blazers' All-Star LaMarcus Aldridge. He didn't bat an eye when he added to the simmering rivalry between the Northwest Division foes.

"We don't care to like them," Aldridge responded. "We're not trying to make friends out there. We're trying to win games."
"Yes hello, NBA league office? I'd like to order a seven-game playoff series between the Oklahoma City Thunder and Portland Trail Blazers. And that comes with a Miami Heat vs. Indiana Pacers Eastern Conference finals? Oh that Eastern Conference finals matchup comes with every order? Thank you so much. Here's my credit card information."
The Thunder's win over the Blazers was a great game Tuesday night. The Blazers led by 10 points at the half before the Thunder came roaring back with to erase that lead heading into the fourth quarter. Aldridge missed a jumper with a couple seconds left that would have potentially been the winning shot with the Blazers down one. After two Reggie Jackson free throws, Damian Lillard missed a tying 3-point attempt at the buzzer.
It was the fourth and final meeting in the regular season between the two teams. The Blazers won the first two contests with a 111-104 win at home on December 4, followed up by a 98-94 victory in Oklahoma City on December 31. The Thunder won Tuesday night in Portland after winning 105-97 in OKC on January 21. 
(H/T - Ball Don't Lie)
The Pistons put out a long list of details regarding their new uniforms

The Pacers traded the forward to OKC for two former lottery picks who have yet to reach their...

Gilbert said what was expected, but didn't necessarily sound all that confident
Altman addressed the media about Irving during his introductory news conference

Toronto's center has an uncertain future; can we still talk about this 25-year-old's poten...

Oakley was vague with his response on when he'd attend another Knicks home game