Kevin Durant plays decoy as Memphis bites OKC in OT, again
The Thunder seemed to lose their way and identity in crunchtime as the Grizzlies take a commanding 3-2 series lead back to Memphis.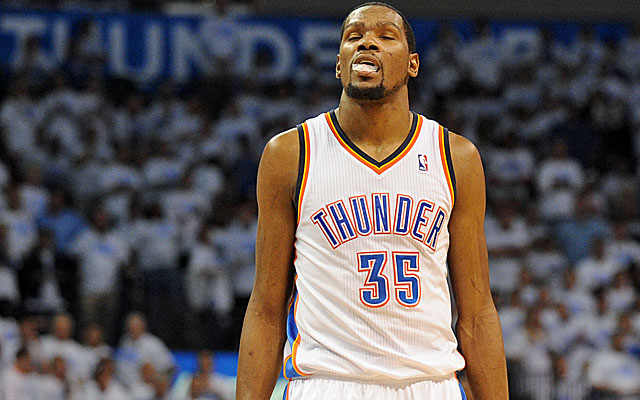 More postseason coverage: Playoff schedule, results | Latest news, notes
OKLAHOMA CITY -- With 6:46 left, Kevin Durant gave the Thunder their first lead of the game. 
It was a patented Slim Reaper-esque moment, a left wing 3-pointer in a big moment with the crowd waiting to explode. Durant splashed down, and the Thunder seemed to be on their way to erasing a 20-point lead and taking an important Game 5. 
But something weird happened. Kevin Durant didn't touch the ball -- not one time -- for the next seven possessions. He didn't take a shot for the next 12. His next attempt after that 3, was another deep ball with 33 seconds left. Six minutes and 13 seconds passed between shots for Durant. 
Inexplicable. Unexplainable. 
"We had some plays where he has to space the floor," Thunder coach Scott Brooks said. "We were giving Reggie [Jackson] some opportunities. We did that the game before and we were able to get into the paint and create easy opportunities."
Hold that. Did Brooks just call Kevin Durant, the most devastating, destructive scorer in basketball, a floor spacer? Because that's all he did. The Thunder ran pick-and-roll with Game 4 hero Reggie Jackson and Russell Westbrook while Durant waited helplessly in the corner on the weakside.
"I wouldn't say I wasn't involved," Durant said. "We seen something in the pick-and-roll and Reggie and Russ did a great job of attacking. And if they were to come off of me, I would've been aggressive myself. Sometimes you've got to be a decoy out there and I'm fine with that. Once the ball comes my way, I have to be ready and be aggressive when I touch it. If I want the ball, I've got to go rebound it and bring it up on the break. I trust my teammates, whatever decisions they make and I've just got to be better for them."
Naturally, Durant took the political, diplomatic approach. But there's no explanation I could be satisfied with for Durant being that uninvolved in the offense at a critical point. Especially after he just seemed to finally get going with that big 3. 
Even had the Thunder won the game -- they fell 100-99 in overtime, the fourth consecutive game to require extra time -- the idea to play Durant as a decoy would've been just as staggering. I mean, Durant said that if he wanted the ball, he had to go rebound it himself and bring it up. This is Kevin Freaking Durant we're talking about here! How does this make any possible sense? 
Either way, the Thunder were there in the end. Westbrook picked Mike Conley's pocket to send the game to overtime, and Durant had a chance to win it with 2.9 seconds left. But of course, the Thunder drew up a head-scratching play, with Durant firing from 25 feet. Serge Ibaka's tip was a split-second too late and the Grizzlies took Game 5 and a 3-2 series lead with them back to Memphis.
So much of the story of this series has been Tony Allen's defense on Durant, and how he seemingly has held down the most potent scorer in basketball. Allen was great once again, hounding Durant all over and challenging every shot, but it wasn't him that locked No. 35 down tonight. 
It was the Thunder, by their own admission. And that's a massive, major problem. 
The Rockets beat the Warriors 116-108 on Saturday night

The Cavaliers gave up 148 points in their loss Saturday afternoon to the Thunder

Blatt made the comment before coaching in the All-Star Game in Turkey
We've got all the scores, highlights and news from all of Sunday's games

Is this rock bottom for the Cavaliers because it sure feels like it is

Wade, as he's done so many times in his career, threw it up to LeBron for the thunderous f...