Kevin Durant says he and Lil' B are 'cool'
Will the curse of the Based God be lifted from the Thunder star?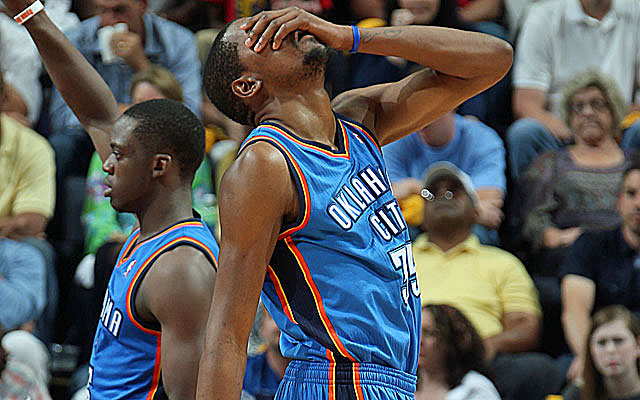 Is the curse of the Based God over? Is the Lil B-Kevin Durant feud done? 
Last year, a long-standing feud between Durant and rap artist Lil' B gained mainstream focus as one thing after another seemed to go wrong for the Thunde despite Durant's independent gratness. Every time the Thunder struggled, it was supposedly related to the feud and the "curse of the Based God." 
But according to Durant at a recent NBA 2K event, the feud is over and he and Lil' B are "cool."
But of course, that's just one side of the story. Lil 'B has yet to respond on Twitter or to the press, and it will only be then that the curse can be lifted. 
No, seriously, this thing is taken very seriously by some people. Durant is wise to broker peace, here. 
There were some weird discrepancies between the fan, media and player votes

LeBron and Steph will be the captains for the 2018 NBA All-Star Game

We've got all the scores, highlights and news for Thursday night
Arron Afflalo was involved in an altercation with Timberwolves big man Nemanja Bjelica on...

Fergie and Canadian rock band The Barenaked Ladies will sing their respective national ant...

Based on Gentry's tongue-in-cheek price, Boston is highly unlikely to acquire the big man