Kevin Durant says the Thunder need to move to beat Paul's defense
MVP bristles at belief the problem is Chris Paul defending him, issue is ball movement. He's right. Sort of.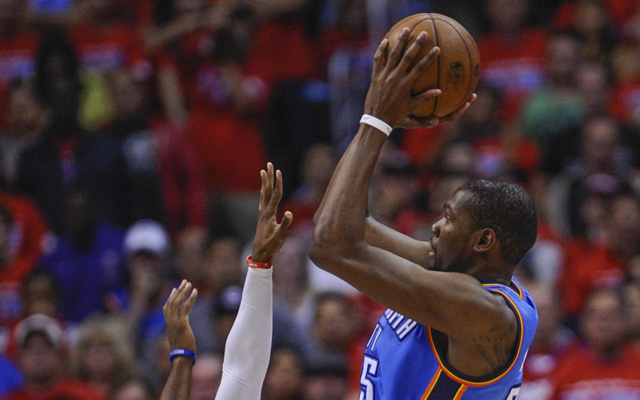 More postseason coverage: Playoff schedule, results | Latest news, notes
The questions were immediate. No one watching the Thunder's collapse against the Clippers in Game 4 could believe it. Kevin Durant, the MVP, all 6-foot-9-to-7 feet of him, depending on who you ask, was defended, nay, shut down by little Chris Paul. The diminutive point guard took on the challenge, and Durant turned the ball over three times. In the post! Durant was asked about it after the game, asked what kind of challenge being guarded by Paul presents. 
"It doesn't," Durant said. 
It's pretty rare that Durant gets annoyed at questions, but this one bugged him. And on Monday, he continued his discourse into why focusing on Paul guarding him overlooks the real problem, the double-teams by the Clippers and the lack of movement by the Thunder: 
"Everybody keeps saying Chris Paul guarding me. It wasn't just Paul," Durant told reporters following the Oklahoma City Thunder's Monday practice back at their training facility. "He's physical, he's smaller than me, of course it was  harder when little guys get up under you. But they're not just going to let Chris Paul play me one-on-one. That's a team game. Basically they got three guys watching me, got a guy behind me so when I caught it they double-teamed as soon as I caught it, and when they didn't double-team, I scored.

"So people always got something to say about the one-on-one matchups, which never happens in this league, especially with me. I got to figure out ways to cut harder and make harder movements because if they're going to put two guys on me than my teammates are going to be open."

"We can't just sit there and just try to force it to me because that's what they want me to do," Durant said. "They want those guys to front and get up under me. By the time we sit there and just force-feed it down, time is running off, so by the time I passed out of it, there's two or three seconds left on the shot clock. I've got to move around a little bit more and not try to demand the ball when there's basically two [defenders] going to guard me, so got to make their defense move."
via Durant says Thunder have got to move it « NBA.com | Hang Time Blog with Sekou Smith.
Durant's absolutely right on this, for a number of reasons. 
Little defenders guarding big offensive players is a bit of a hidden mismatch. Why? NBA officials in the last few years have gotten whistle-happy on offensive fouls, and those fouls are exacerbated when it's a much bigger guy against a smaller guy. Throw in the propensity for flopping, particularly by Chris Paul who, let's be clear, will do anything to win -- and I'm not casting any criticism on his decision to do so -- and you have a really tricky situation for Durant. 
Let's say as soon as Durant gets the ball, he puts his shoulder into Paul to back him down. Or his hip. Paul's going to hit the deck. Durant can't afford the whistle there. And on top of it, Durant hit several killer turnaround jumpshots, shots well within his wheelhouse, over Paul in those situations. 
Now, none of this goes to the heart of the issue, which, Durant's right, is the lack of time to execute when he gets the ball and the double team. The spacing has to be better so Durant's not trying to reverse court with the ball over two defenders with a third playing safety on the weakside. And the movements have to be quicker. 
As for Durant's comments about getting him the ball off cuts? Listen, we've been waiting for that for years and it hasn't happened. I would more expect to see Durant getting the ball higher in the backcourt and running pick-and-roll action. I just can't believe the Thunder are going to get shots for him off the catch at this point. They've never shown the ability. 
Game 5 is Tuesday night at 9:30 p.m. ET on TNT. 
Among the questionable decisions by Jackson was signing Noah to a long-term, lucrative dea...

This Akron store doesn't want their hometown hero to leave again

Milwaukee's star did not get cleared to play for his national team due to a painful knee i...
Ball, the second overall pick in the NBA Draft, is receiving even more hype

Rap mogul supports the vision the outspoken father has for his brand and sons

Deciding who to watch on League Pass can be difficult, but these rankings promise to help