Kevin Durant's withdrawal raises more questions on Team USA's future
Last summer, Kevin Durant and Kevin Love were the first NBA stars to commit to Team USA for the 2014 FIBA World Cup. Now, they're both out, and a summer to forget for USA Basketball just got worse.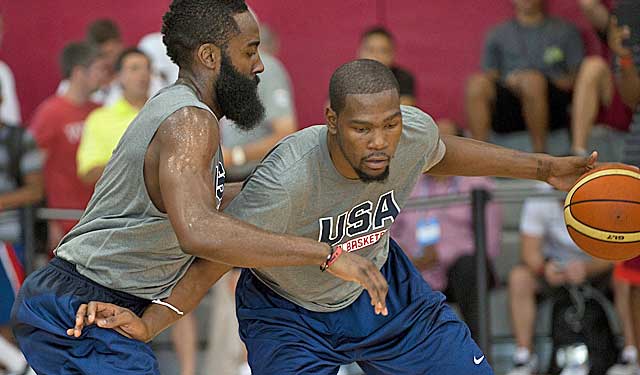 More offseason news: Durant won't play in World Cup | Love deal in place
Last summer, Kevin Durant and Kevin Love were the first NBA stars to commit to Team USA for the 2014 FIBA World Cup. They announced it together. It was quite the announcement, too.
With LeBron James and other 2012 Olympians known to be sitting out the non-Olympic summer of international play, early commitments from Durant and Love were trumpeted as "a big day and a big announcement" by USA Basketball architect Jerry Colangelo. Coach Mike Krzyzewski said the fact that Durant wanted to tell him "face-to-face" that he was on board gave him "chills."
"We've said it before, with all due credit to all of our guys: [Durant] is kind of the face of USA Basketball going forward," Colangelo said at the time. "He committed a long time ago, and it's part of who he is."
Less than a week after USA Basketball lost All-Star Paul George to a gruesome leg injury, the face of the program -- Durant -- withdrew Thursday. This after the other Kevin, as in Love, pulled out weeks ago because of his uncertain situation with the Timberwolves.
Citing mental and physical fatigue, Durant, 25, said withdrawing from the tournament was "an extremely difficult decision."
"After going through training camp with USAB, I realized I could not fulfill my responsibilities to the team from both a time and energy standpoint," Durant said in a statement. "I need to take a step back and take some time away, both mentally and physically, in order to prepare for the upcoming NBA season."
So to recap: Several 2012 Olympians, such as LeBron James, Chris Paul and Carmelo Anthony, never intended to participate in the World Cup. Others, like Blake Griffin and Russell Westbrook, withdrew because of health concerns. More stars, like LaMarcus Aldridge and Love, stepped aside for other reasons. Now, Durant -- who said last summer said it's "kind of self-explanatory, playing for your country" -- is too tired.
Whatever the reasons, this has been a deflating summer for Team USA, which ventures to Chicago now with 15 finalists for the 12 roster spots they will fill before heading to Spain.
Well, presumably it will be 12. At this rate, you never know.
Neither Colangelo nor Durant mentioned George's injury -- he shattered his right leg in a freak accident during a Team USA scrimmage last week in Las Vegas and could miss the entire 2014-15 season -- but they didn't have to. From George's injury, to the lack of star commitments, to the star withdrawals, and finally, to the "face of the program" going home, it has been a summer to forget for USA Basketball.
Whether it played a role or not in Durant's decision, George's injury already had jump-started the conversation about whether NBA stars should be playing internationally anymore. The best players tend to be on playoff teams, logging 100 or more games during the eight-month grind of the regular season and playoffs. Frankly, I don't blame a single one of them -- Durant included -- for needing a break.
For those with a year left on their contracts, such as Love and Aldridge, I don't blame them one bit for shying away from the injury risk. Nor do I blame the owners for being skittish about lending their precious investments -- their stars -- to the cause. 
All that being true, do athletes who are performing yearround need to embrace international competition every summer? Former commissioner David Stern's idea of sending a 23-and-under team to the Olympics is looking better and better. Such a format would allow veteran stars to prioritize the World Cup, at least giving them a summer off every four years.
The answer isn't pulling the biggest stars from international play, because what the Dream Team started in 1992 has made money for owners and players and made the NBA's biggest stars global celebrities. It's easy to lose sight of that, but we shouldn't.
But the answer also isn't what we have now: The best players either avoiding non-Olympic summers entirely, getting hurt or changing their minds. As strong a message as it sent when Durant stepped up and committed to the World Cup last summer, it sent an even stronger one when he pulled out.
Lakers rookie got his shot to fall, thanks in part to some of the worst defense you will ever...

The singer of the national anthem at the Nets game took a knee at the end

This was the Lonzo Ball people were expecting out of college
Antetokounmpo finished with 34 points, 8 rebounds, 8 assists, and 3 steals, but the Cavs won,...

John Wall is proud of his ability to block shots and thinks nobody at his position has been...

Giannis went at LeBron on a fast break, but LeBron won the matchup