Kevin Garnett goes scoreless in Nets' Game 1 loss in Miami
This was not the start to the second round that Kevin Garnett and the Nets wanted.
• 3 min read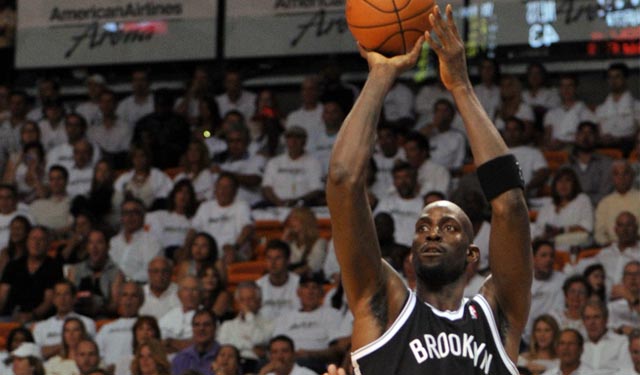 More postseason coverage: Playoff schedule, results | Latest news, notes
Kevin Garnett is not as dominant as he used to be. That's not news, and that's not a problem. He's 37 years old, and he's in his 19th season. Brooklyn Nets coach Jason Kidd has a 20-25 minute cap on his playing time. Garnett can still be effective, but no one expects him to be a superstar for this team. On Tuesday, though, his play was worrying. For those who grew up watching him, it was saddening.
In Game 1 of the Nets' second-round series against the Miami Heat, he missed the only two shots he took in his 16 minutes. It was the first scoreless playoff game of his career, and Brooklyn lost 107-86.
Garnett still possesses a brilliant defensive mind, and if not for him slapping the ball out of Kyle Lowry's hands on the last possession of Brooklyn's Game 7 victory in Toronto on Sunday, his team might be on vacation. Throughout that series, though, he was not an intimidating presence on the inside. Second-year center Jonas Valanciunas managed 17 points and 18 rebounds matched up with Garnett in his postseason debut. The Heat do not employ a traditional big man like Valanciunas, but this was another disappointing Game 1. They marched to the basket as if Garnett wasn't there.
"Pretty much during the whole game, we couldn't keep them out of the paint," Kidd said at the podium.
Miami won the points-in-the-paint battle 52-28. Even when the game was close in the first half, the two teams were getting totally different kinds of looks. Brooklyn found it difficult to make anything happen near the basket.
"Easy. You attack," Garnett said when asked how to fix it, via the New York Post's Tim Bontemps. "Obviously they have some holes in their defense that we can probably compromise.
"I'm saying [playing with] more confidence, being more aggressive, putting them on their heels. I think Shaun [Livingston] was the only starter who went to the foul line. We can't have that."
It's already evident that the Nets will need to make their jump shots to win this series, but it's equally clear that they will need to do a much better job forcing the Heat to take more of them. 
"That was kind of the theme of the night: just layup, layup, layup," Brooklyn point guard Deron Williams said.
If anything is going to be different in Game 2 and beyond, Garnett will have to be a big part of it. While much has been made of the Nets turning their season since he shifted to center, there's a reason he has never been too fond of the position. It takes a toll on your body to battle under the basket. The roster was constructed with the injured Brook Lopez in mind, though, so there aren't a ton of other options. Rookie Mason Plumlee had a nice regular season, but the team has been awful on both ends with him on the court in the playoffs — his net rating through eight playoff games is minus-12.6 points per 100 possessions.
In short bursts, Garnett can still make an impact. He started the first round quietly, too, and ended up being instrumental in Brooklyn's final two wins. No one should have expected him and the Nets to look particularly fresh after their grueling seven-game series against the rested Heat, so the loss shouldn't be surprising. It's just unsettling that it was this bad.
Oklahoma City has reportedly offered the MVP a five-year extension worth over $200 million

The big man was a big part of the Warriors' championship run last season

The Cavs jokes were out in full force after Golden State reportedly agreed to sign Antonius...
New York seems to be at the top of Irving's list of preferred destinations

Is it just a normal workout, or is LeBron continuing his recruiting efforts?

Chris Bosh answered on the spot about the LeBron James and Kyrie Irving situation