Kevin Garnett has been mentoring Rondo on how to lead Celtics
With Rajon Rondo officially being the star player for the Boston Celtics, he'll need to lead by example. Kevin Garnett says he taught him that.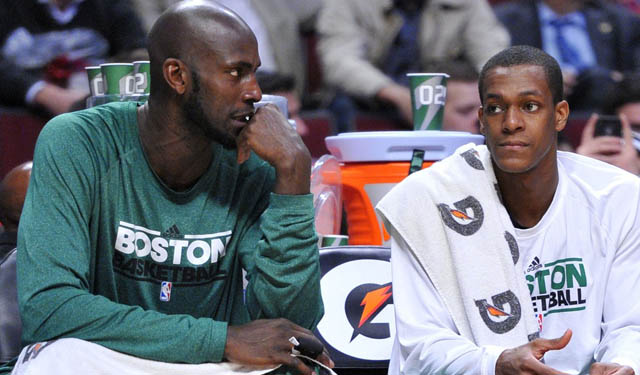 Over the past two years, there seemed to be a story line in Boston over whether or not Rajon Rondo was the best player on the Boston Celtics. As Kevin Garnett and Paul Pierce started to show signs of decline, Rondo was able to really find a foothold in the league and especially within the construct of what the Celtics did on the court. The leadership came primarily from Garnett, Pierce, and coach Doc Rivers, but direction on the court had to come from their dynamic point guard.
With Garnett, Pierce, and Rivers all gone from the Celtics green, Rondo will be the top dog in Boston. As he recovers from his ACL tear in late January, Rondo will have to find a way to lead his teammates, work with his new, young coach, and get himself ready to return from his big knee injury. According to Garnett, Rondo is more than capable of accomplishing this thanks to being taught leadership. From MassLive.com:
On the most important thing he taught Rondo:

"About leadership. I feel like one of the things I always tried to stress to him is, when you're a leader, you lead by example. It's not a lot about what you say, it's a lot about what you do."

On whether Rondo can push the new Celtics back to the top:

"Absolutely. I'm sure he's going to push them to make the team better, and (president of basketball operations Danny Ainge) is going to do just that. The franchise has always been used to winning. They have a new coach and new system up there, so I'm thinking that's going to be a plus. I wish them all the best, man. I have no ill will towards anything in Boston."
Since the trades sending out Garnett, Pierce, and even Rivers, we've known this next season was going to mean the Celtics were embarking on a rebuilding/retooling stage. There were instant murmurs that maybe Rondo wasn't long for this franchise and could be used as an incredible way to acquire assets on the trade market. But as of right now, the Celtics seem committed to getting their point guard healthy, back on the court, and meshing with new coach Brad Stevens.
If Rondo is going to truly find a way to get this team back into the playoffs and back to contending for titles, his leadership will be paramount. This is finally his team and he'll have to work harmoniously with Stevens in order to find the perfect way to convey the system's ideals and get his teammates in the right frame of mind and position to succeed. Having better talent on the roster will also be huge but once he's healthy, we'll finally get a chance to see just how incredible Rondo is on the court and whether or not he's fit to be the best player on a team with playoff aspirations.
McCollum hurled a clever insult at the French forward

Hosts Bill Reiter and Reid Forgrave are joined by Blazers guard CJ McCollum

Check back throughout the night for the latest updates from Monday's NBA games
Garnett has worked with Maker and says he is reminded of himself

It might be a good time to place a bet on the Boston Celtics

SportsLine's Mike McClure, a DFS pro with more than $1M in winnings, gives optimal lineup...