Kevin Garnett: 'I'm not happy with my play right now'
Brooklyn's Kevin Garnett has been in a funk, and the 19-year veteran is frustrated about it. Trailing 0-2 to the Heat, the Nets need more from him.
• 1 min read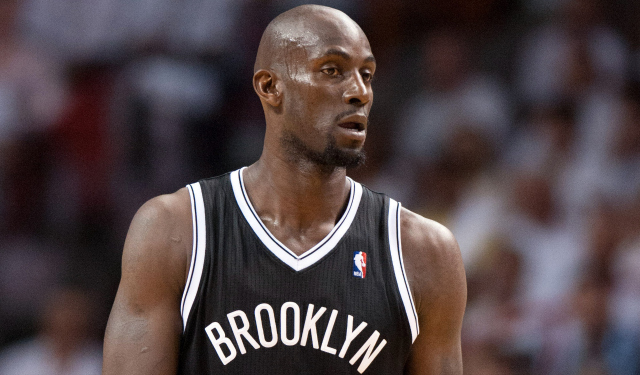 More postseason coverage: Playoff schedule, results | Latest news, notes
It hasn't been fun watching Kevin Garnett in the playoffs. He had a few brief moments of defensive brilliance against the Toronto Raptors in the first round, but by and large he has not been able to affect games in anything resembling the way he has in the past. 
"I'm not happy with my play right now. I'm trying to get in a flow and a rhythm," Garnett said after the Nets' 94-82 loss in Game 2 against the Miami Heat on Thursday, via the New York Daily News. "Try to bring something. It's just frustrating. But I'll grind through it.
"[I'll] continue to work," he continued. "Continue to find ways to be aggressive offensively. Continue to look for opportunities. Rebound the ball. And continue to talk and inspire."
Garnett started the series against Miami by going scoreless for the first time in his playoff career. He only attempted two field goals in 16 minutes, and his presence didn't deter anyone from attacking the paint.
It didn't get much better the next time around. Garnett played 21 minutes and shot 2-for-8, including just 1-for-6 in the paint. He finished with four points, though he did grab 12 rebounds. 
You can still see Garnett's brain working, and he's still able to help out his teammates with defensive positioning. He's just so far from what he once was — even as recently as this season — and the Nets' attempts to feed him the ball have been far from fruitful.
For longtime NBA fans and observers, seeing Garnett turn down looks near the basket is just depressing. So is seeing Brooklyn head coach Jason Kidd elect to play Mirza Teletovic at center in a crucial playoff game because Garnett and the rest of the Nets bigs have been so ineffective.
Garnett battled back spasms for a significant portion of the season, and he's on a 20-to-25-minute limit. In the opening round, he had a few duds but looked a lot better in the last two Brooklyn victories. The Nets' season is on the line in these two games at Barclays Center, and Garnett will have to give them whatever he has. Brooklyn can only hope it's more than he's managed lately.
Oklahoma City has reportedly offered the MVP a five-year extension worth over $200 million

The big man was a big part of the Warriors' championship run last season

The Cavs jokes were out in full force after Golden State reportedly agreed to sign Antonius...
New York seems to be at the top of Irving's list of preferred destinations

Is it just a normal workout, or is LeBron continuing his recruiting efforts?

Chris Bosh answered on the spot about the LeBron James and Kyrie Irving situation