Kevin Garnett, Paul Pierce will not play in preseason game in Boston
Brooklyn Nets players Kevin Garnett and Paul Pierce are back in Boston for the preseason game against the Celtics but they will not play.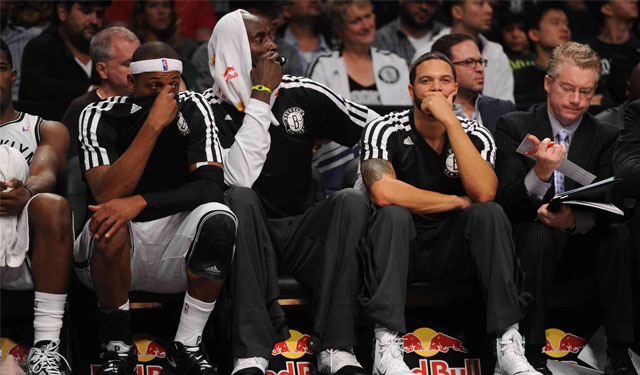 When the Brooklyn Nets acquired Kevin Garnett and Paul Pierce as a packaged deal this offseason, it marked the end of an era with the Boston Celtics. With Doc Rivers departing for the Los Angeles Clippers, the Celtics were beginning their rebuilding mode and dealt their two star forwards to a Nets team looking to make a run at a championship. 
Garnett and Pierce gave the city of Boston another championship to celebrate back in 2008 and several memorable playoff runs when they were together from 2007-2013. They return Wednesday night to Boston when the Nets and Celtics face off in Boston's last exhibition and the Nets' second to last exhibition game of the preseason. However, neither player will return to Boston on the court just yet. They're expected to sit out tonight's action.
Both Paul pierce and KG are in town, but neither will play for the #nets in tonight's game vs #Celtics.

— A. Sherrod Blakely (@SherrodbCSN) October 23, 2013
The Nets are scheduled to play the Celtics four times in the regular season but won't be in Boston until January 26 when they face off for the second time. They play again in Boston on March 7, which should be a definite matchup between Garnett and Pierce versus Rajon Rondo, who should be recovered from his ACL injury buy then.
Pierce played in a previous preseason game against the Celtics in Brooklyn, but Garnett missed that game. Pierce finished with four points on 1-of-6 shooting from the field in 26 minutes. He also had 10 rebounds and five assists.
Golden State led by 17 on ring night, but they missed Draymond Green and Andre Iguodala in...

Durant's shot is too late and the champs lose; Hayward's awful injury overshadowed Cleveland's...

Chris Paul sat out the fourth quarter of the Rockets win due to an apparent knee injury
Durant couldn't quite get the shot off in time, and the Rockets prevailed

Draymond Green walked off the floor limping and rubbing his knee in the third quarter

Golden State raised its second banner in three years. Now they start their run for another