Kevin Garnett to return to Celtics, 2-year deal reportedly on tap
Kevin Garnett will not retire, will return to the Boston Celtics.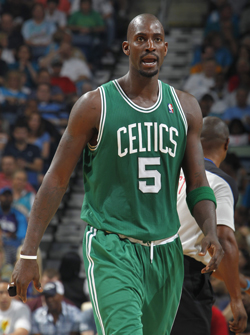 KG is headed back to Boston.
(Getty Images)
The Boston Herald reports and CBSSports.com's Jeff Goodman confirms that Kevin Garnett has decided not to retire and instead to return to the Boston Celtics. Garnett is scheduled to become a free agent Saturday night/Sunday morning at 12:01 a.m. ET. 
From the Herald: 
The 36-year-old considered retirement, but ultimately decided to return for an 18th NBA season — and more.

According to an NBA source and a source close to Garnett, the sides are working out the details of a deal that will be for at least two years and could possibly include a third.

"The decision came down to whether KG wanted to keep playing," said one source. "And once he decided that he did, it was going to be Boston. He wasn't going to leave Doc (River) and those guys and play anywhere else."
via BostonHerald.com - Blogs: Celtics Insider» Blog Archive » Garnett set to return to Celtics.
Garnett posted one of his best seasons overall in 2012, and was a legitimate Defensive Player of the Year candidate. At age 36, a drop in production and ability to rotate is only going to increase, leaving questions about the Celtics opting to provide him with a multi-year contract. 
But if Garnett was going to return, every report and source close to Garnett said the same thing. He'd only come back to the Celtics, his bond with Doc Rivers too great, his desire to ring-chase too low. 
Ray Allen, fellow Celtics Big 3 member and free agent, is not expected to return, and is instead expected to entertain offers from Boston rivals including Miami and Chicago. 
Garnett was the playoffs MVP for much of the first two rounds, but in the Conference Finals, as the series wore on, you could see the exhaustion and wear and tear. Garnett started to become slow on rotations, was beaten to the rim, and the wear and tear from having to play center was apparent.
Garnett will be able to be a mentor for rookies Jared Sullinger and Fab Melo, both drafted by Boston in Thursday's draft, and to retire as a Celtic. So while Boston knows it has to start looking to the future, it appears it's not quite ready to let go of the Big Ticket past yet. 
Westbrook's late layup gave the Thunder a 109-108 victory

LeBron became the seventh player in league history to reach the milestone

There were a few things that stood out from Tuesday's All-Star selections
Here are three players from each conference who had legitimate claims to make the game

LeBron achieved the milestone in the first quarter Tuesday

Here are the full lineups for the 2018 NBA All-Star Game