Kevin Hart joins production of LeBron James movie 'Ballers'
Diminutive movie star set to play brother of LeBron James in movie shooting in 2014.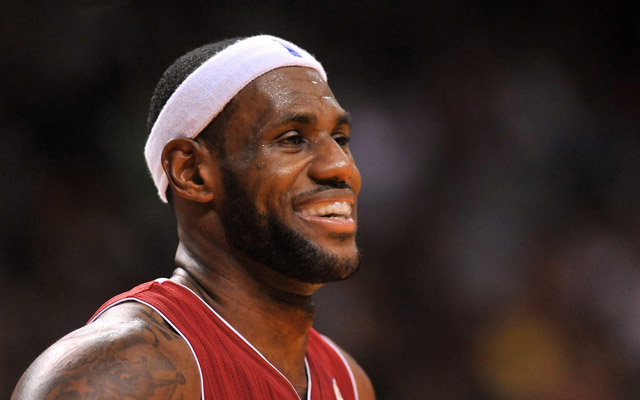 LeBron James and his marketing company had developed an idea for a movie vehicle back in 2009. After the Heat failed to secure a championship in 2011, shooting was delayed because, you know, that wouldn't have gone over well. Now production is back on for next summer, and NBA-fan movie star Kevin Hart is attached as well. 
LeBron James' feature film debut project is heating up again, as comedian Kevin Hart will join the NBA champion in Universal Pictures and Imagine Entertainment's "Ballers," an individual familiar with the project told TheWrap.

The diminutive Hart may appear small next to James but he's a big star, with the hit comedy "Think Like a Man" under his belt and the upcoming "Ride Along" shaping up to be a potential franchise at Universal.

"Ballers" will find Hart playing LeBron's brother, who gets a chance to emerge from James' towering shadow when he attends a fantasy basketball camp in Miami.
via Kevin Hart to Play LeBron James' Brother in Basketball Movie 'Ballers' - TheWrap.
After winning two titles, and still the odds-on favorite to win the 2014 title with the Heat, James is focusing on developing his goals to be a global icon. He's producing a sitcom, he wants to be in "Space Jam 2." 
The Wrap reports that James' manager Maverick Carter is a producer for the film, and this would be a major step forward for LRMR, which has been pretty quiet overall for a company devoted to expanding the brand of the most powerful basketball athlete on the planet. 
The NBA broke its silence with a statement related to the Lakers-Paul George tampering cha...

The Clippers big man thinks LeBron will reunite with the banana boat crew at some point

Have the Clippers reportedly found their next GM?
The NBA stayed to the point in their response to the Greek basketball federation

The Pacers believe the Lakers tampered with Paul George before they traded him

Among the questionable decisions by Jackson was signing Noah to a long-term, lucrative dea...