Kevin Johnson HOF to Celine Dion: Journey down the rabbit hole
Ever wonder how you can start with a discussion of Kevin Johnson's Hall of Fame credentials and get to Celine Dion videos? Journey down the rabbit hole.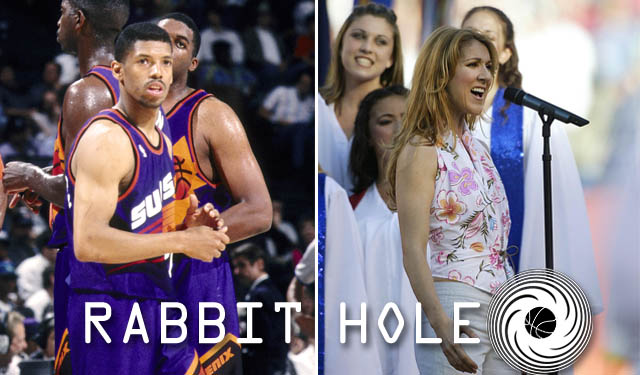 We're so close to the 2013-14 NBA season that you can almost taste it. Every September, we get an enshrinement ceremony with the Basketball Hall of Fame. When it happens, it's a great event landmark because it lets you know that the new NBA season is coming around the corner. Hall of Fame speeches happen and you know you're just a couple weeks away from the start of training camp. When you get to the start of training camp, you're a month away from the start of the season. 
This year's enshrinement of Gary Payton, Bernard King and others helped us kick off this week's Rabbit Hole post. Let's kill some time and take a journey:
First stop: Kevin Johnson should be in the Hall of Fame
With Gary Payton getting into the Hall of Fame (deservedly so, I might add), there aren't a lot of point guards left from the 1980s and 1990s that appear to be left out of the Basketball Hall of Fame. The three point guards left that you can make the best case for enshrining into The Hall are Kevin Johnson, Mark Jackson, and Tim Hardaway. Hardaway is probably a bit of a long shot for right now and Jackson's career totals make him an interesting candidate. 
But what about Kevin Johnson? Even though he logged just 840 games (including playoffs) in his career, did he do enough on the court to warrant the honor of officially joining the all-time greats? Greg Esposito of Suns.com had an article shortly after the Hall of Fame ceremony in which he made the case for why Kevin Johnson should be given the honor. While it's expected that someone writing for the Suns' website would want to honor a former Suns great, the case Greg makes is very solid and he has quotes from a couple of legends backing up the career of KJ:
"If you look at his numbers," Mark West said, "They're comparable to a lot of other point guards who have made it into the hall. If you look at the guys who are in the hall that he competed [against], even Stockton. Go ask them about playing against him. Go ask Magic about playing against him. Go ask Isiah, and I think you'll probably get the same answer I gave. Yes [he belongs in the Hall]."

One Hall of Famer, and another former teammate of Johnson's, agrees with that assertion.

"I'm pulling for him," Charles Barkley told Suns.com. "KJ was one of my truly great teammates. I would love to see KJ go to the hall of fame."

It isn't just players of his generation who have a great respect for Johnson's game and think he's hall-worthy. One of the biggest names and talents in the game now, LeBron James, agrees with Barkley and West.

"It was his approach to the game," LeBron said. "He was one of those guys who could dominate the game both offensively and defensively. He was a complete point guard; he could easily play in the game today with what he brought to the game."

Public and player opinion is one thing, but if it's based purely on numbers, Johnson is a no-brainer to receive the call from the hall. Johnson's career average of 9.13 assists per game is the sixth highest in the history of professional basketball. The only names above his are Magic, Isiah, Stockton, Robertson and Chris Paul. That's four Hall of Famers and one guy who is likely to punch his ticket five years after his retirement.
Stack up the careers of the six point guards that Greg mentions in the last paragraph I've excerpted and a couple of things stand out:
First, it's pretty incredible that Chris Paul's numbers hold up against the all-time greats like this. Secondly, Kevin Johnson's production, even with just 735 regular season games, are more than worthy for inclusion, especially when you factor in his playoff numbers were just as good when the pressure and stakes were often suffocating. 
If you need to see whether he passes the proverbial "eye test" at all, just take a look at the next section.
Kevin Johnson highlights were always really fun
There are two fun Kevin Johnson mixes on YouTube, amongst a smattering of dunks on John "Hot Rod" Williams and KJ climbing Mark Eaton, but these two are my favorite. Granted, you're going to see a lot of the same plays in both videos, but I love juxtaposing them because of the music choice for each one. In the first YouTube mix here, you've got some pretty impressive dunks and other highlights from Kevin Johnson set to the song of "Blow Your Mind" by Redman.
The other video goes a much different route. Instead of going with your typical upbeat rap song, the creator of this video decided to rock an Aaliyah song called "At Your Best (You Are Love)." This one also has a pretty awesome video introduction from a video that was created over 20 years ago.
These highlights of KJ are fantastic, but much like when you go to a Limp Bizkit concert now, you're not going to hear their new attempts at Ska music (I have no idea if this is true but it's amusing to imagine); you want to hear them play songs like "Rollin'" and that "Nookie" song they made so insufferably popular. You want the hits!
This means you can't post Kevin Johnson highlights without isolating one of the greatest highlights in NBA history: his dunk in the playoffs over Hakeem Olajuwon.
Kevin Johnson's infamous dunk on Hakeem Olajuwon
During Game 4 of the 1994 Western Conference semifinals, the Phoenix Suns were trying to take a commanding 3-1 series lead over the Houston Rockets. The Suns were up 2-0 in the series after winning the first two games in Houston. When they headed back home, thoughts of advancing and eventually getting back to a second straight NBA Finals seemed like a good bet. However, the Rockets dropped 39 in the fourth quarter of Game 3 to beat the Suns convincingly, despite 38 points and 12 assists from Johnson.
In Game 4, Johnson put up a second straight performance of 38 points and 12 assists with the two loudest points happening with the Suns down 11 in the fourth quarter.
Everything about the dunk from KJ was a perfect storm. Offensive rebounds can often lead to chaotic scrambling by the defense and this offensive rebound wasn't any different. And as it was highlighted in the video by Shaquille O'Neal and Kenny Smith, himself, a lazy closeout by the Rockets' point guard led to a wide-open lane on the baseline for Johnson to dart through and catch an unsuspecting Olajuwon.
Olajuwon got the last laugh though, as his team went on to win the series in seven games and eventually win the title that year. 
Kevin Johnson's insane fight with the New York Knicks
One of the things that pops up on YouTube when you're looking for Kevin Johnson mixes is a pretty surreal fight that occurred between the Phoenix Suns and New York Knicks back in the 1992-93 season. During a hard fought game between two of the best teams in the league that season, Knicks guard Doc Rivers and Suns guard Kevin Johnson got into a scuffle that ended up leading to an all-out brawl. Check out the two videos below:
The craziest part of this entire exchange is obviously Greg Anthony's part in the entire ordeal. He was in street clothes (although the shirt looks like a pajama top when you check out a still photo of it), not dressed in uniform for the game because of an ankle injury, and he came over to Johnson and punched him. Anthony's ankle couldn't have hurt too much because he was able to throw a hook at KJ and then run away.
This brawl appeared to lead to the NBA's rule about leaving the bench during a fight and the rules for throwing a punch. The rules came into effect within the month after this entire fiasco happened. The fallout is perfectly chronicled in this post on KnickerBlogger, but there are two things I wanted to excerpt. First, Danny Ainge's comments about Greg Anthony after the game are great:
"It was between K. J. and Doc. You see that type of thing in tense games. Anthony is when it got out of hand. I don't consider the Knicks thugs. The way John Starks and Anthony Mason and Doc Rivers play, I'd love to have them on my team. We have nothing personal. The only thing some have personal — I know our whole team is not fond of Greg Anthony. The other stuff happens. But a guy coming off the bench in street clothes and throwing a cheap shot on the star of our team? I'm told as Anthony was walking off, he said, 'I got him good.' K. J. was so angry with Greg Anthony. He wanted to talk to the official and ask why he'd been ejected for being punched by Greg Anthony and he wanted to go after Greg Anthony. Like I said, I love the way Starks, Mason and Rivers play. But Greg Anthony goes overboard. He's not that good a player, either."
Secondly, there was this part about the fines and number of players that left the bench:
Clearly, the NBA felt that the worst aspect of the fight was the injured Anthony coming off of the bench. In addition, besides Anthony, fourteen players left the bench during the brawl, receiving $500 fines. They were Charles Smith, Rolando Blackman, Charles Oakley, Herb Williams, Hubert Davis, Eric Anderson and Bo Kimble of the Knicks; Cedric Ceballos, Tom Chambers, Frank Johnson, Tim Kempton, Negele Knight, Mark West and Richard Dumas of the Suns.
14 players! $500 fine! Those were the days...
Tom Chambers was known for dunks but what about being on Arsenio Hall?
In one of the videos above, we saw the spotlight shining on Kevin Johnson in the introduction but it almost mentioned his former teammate Tom Chambers. Most likely, you're going to remember Tom Chambers not for his unreal scoring ability but for that one fateful time he played SlamBall against Mark Jackson in an NBA game.
As great as Chambers catapulting himself over the future coach of the Golden State Warriors is, it's nothing compared to the time capsule adventure that is seeing video of the time Tom Chambers and his coach Cotton Fitzsimmons were guests on "The Arsenio Hall Show."
There is so much gold from this video. There's Arsenio and Fitzsimmons joking about calling the coach "Cotton," which led to Cotton saying, "I would say this. I'm glad they call me 'Cotton.' I'd hate to be Whitey in the NBA." It was a simpler time back then or it was just too awkward to truly make anything of it at the time.
Some of the other highlights: There's also whatever it is Cotton is wearing as a leather sweater, Chambers openly discussing practice altercations with Xavier McDaniel, Cotton telling everybody that a scorer has to be selfish, and Tom Chambers correctly predicting the rise of the Chicago Bulls. 
Let's not forget Thunder Dan
If you're going to talk about the Suns in the 90s, then you can't stop before mentioning Dan Majerle. Lovingly referred to as Thunder Dan, Majerle was one of the better all around wing players of his time. He was athletic enough to attack the basket with a fierceness and he had some of the deepest range you can imagine on the court. 
Some NBA junkies will remember Majerle's ability to make trick shots in a suit. Others will remember that Majerle was booed by Suns fans when he was drafted 14th in the 1988 NBA Draft. In the opening of this video, you can watch Cotton Fitzsimmons warning Suns fans that it was a mistake to boo him and they'd be sorry for booing him. But most importantly, he once starred in a highlight video that included clips of him hanging out with Celine Dion as she provided the music for the video.
There is so much to be impressed by in this video, mostly with him taking such incredibly deep 3-point shots. But you won't find anything more awe-inspiring than Celine Dion taking Dan Majerle to the rack for the layup.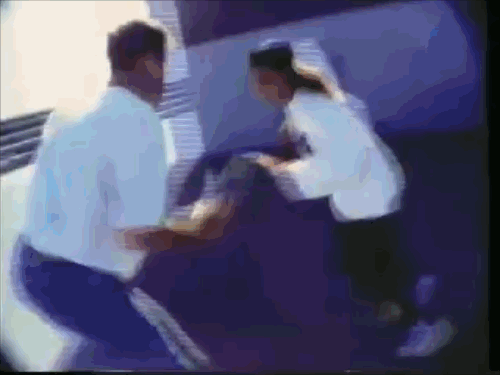 Celine Dion + Michael Jordan = You're welcome
Funny enough, when you see the Majerle-Celine video above and then search "Celine Dion NBA" on YouTube, you end up with an unimaginable set of highlights from Michael Jordan that are cut together beautifully and given just the right touch of music with Celine Dion singing "My Heart Will Go On."
That's right. You get Michael Jordan highlights and Celine Dion's greatest song. Does it get any better than this?
Oklahoma City has reportedly offered the MVP a five-year extension worth over $200 million

The big man was a big part of the Warriors' championship run last season

The Cavs jokes were out in full force after Golden State reportedly agreed to sign Antonius...
New York seems to be at the top of Irving's list of preferred destinations

Is it just a normal workout, or is LeBron continuing his recruiting efforts?

Chris Bosh answered on the spot about the LeBron James and Kyrie Irving situation