Kevin Johnson meets with Silver on behalf of NBPA about Sterling
Sacramento owner says players want maximum punishment if recordings are in fact Clippers owner.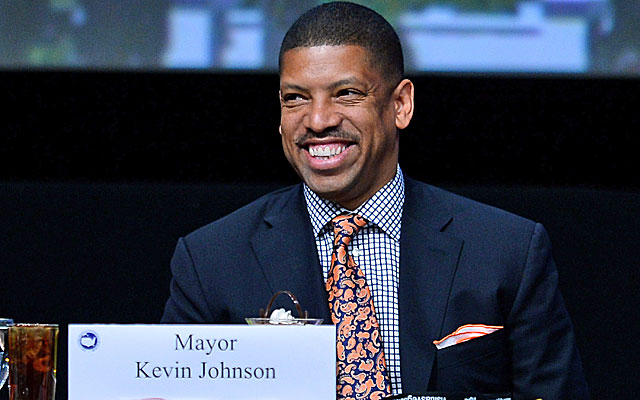 More on Sterling: League investigating | Barkley: Ban Sterling | Reactions
Sacramento mayor and special adviser to the NBPA Kevin Johnson spoke with NBA commissioner Adam Silver on Sunday about the alleged racist comments of Clippers owner Donald Sterling.
Johnson, who called this a "defining moment for the league," said the players want decisive action from the commissioner and want to make sure Sterling is not in attendance for any remaining NBA playoff games, according to an ESPN report.
Johnson added that if the accusations are proven to be true, the players want to see significant punishment levied by the league.
"The players are waiting for the commissioner to act decisively," Johnson said. "They want the maximum of what the constitution and bylaws will allow and we're trying to figure out what that is. They want the maximum. They want a decision to be made quickly and decisively. If you don't respect the players in this league, then the values that we all espouse are for naught."
via Kevin Johnson says NBA players want max punishment for Donald Sterling - ESPN Los Angeles.
Sterling has been under fire from players, owners and even the President of the United States over the weekend, after a tape leaked first to TMZ and then a longer version to Deadspin of a person believed to be the Clippers owner speaking to his girlfriend that involved a series of racist comments. The NBA is investigating. 
L.A. reached a three-year jersey ad patch deal with Wish, a San Francisco-based e-commerce...

John Paxson doesn't intend to buy Wade out without some sort of compromise from the 3-time...

The new BBB kicks have a sleek, all-black design and will be available in November
Durant recently apologized for tweets criticizing the Thunder and Billy Donovan

Jackson says he has 'no respect' for Durant after KD created fake Twitter pages

James is apparently motivated to help Rose, who signed a one-year deal with the Cavs this...