Kevin Johnson says chances Kings stay in Sacramento are '90 percent'
On 'The Dan Patrick Show,' Sacramento mayor Kevin Johnson put the chances of the Kings staying in his town like this: "I'm going to say Steve Nash is on the free-throw line."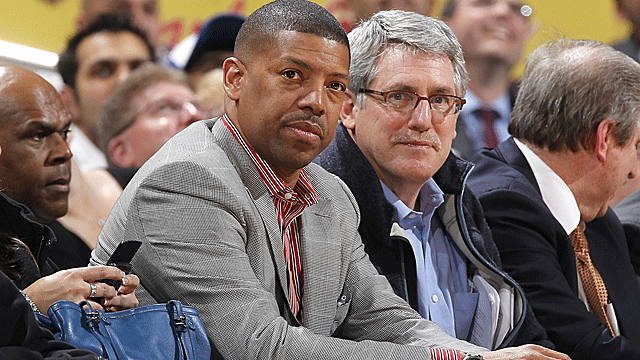 On The Dan Patrick Show, Kevin Johnson put the chances of the Kings staying in Sacramento like this:
"I'm going to say Steve Nash is on the free-throw line."
For reference, Nash is a 90.4 percent free-throw shooter. So it would seem like Johnson is pretty darn confident the Kings aren't going anywhere.
"I will tell you what, I'm excited. I think Sacramento, we're going to pull it off," Johnson said. "The Maloof family accepted an offer to sell the team to Seattle, and the group up in Seattle signed it. But there was always an opportunity for a backup offer to be accepted. We're all over it in Sacramento. We have an ownership group that is putting forward a counteroffer that is competitive and very strong. We're building a brand new arena. We just had a council vote last night to build a brand new arena downtown. Then, thirdly, we believe very strongly in our market, the viability and strength of the Sacramento market. I think those are going to be the three criteria. And, at the end of the day, we will find a way to keep our team in Sacramento."
To recap: After a Seattle group had its offer of $525 million accepted by the Maloofs, a Sacramento investment group put together a competing bid that is going to match it (or come very close). And now, with an apparent arena plan in place, the Kings will take their case to the NBA's Board of Governors meeting on April 3, where there will be a decision as to who is awarded the franchise April 18-19.
Johnson made a strong case already as to why the Kings should stay. The season-ticket base is building, there's an arena plan and the city has a rich history with the NBA.
"I will tell you what, when you think about Sacramento, we're the capital of California, the eighth-largest economy in the world, and we have only one professional sports team. It means the world to our community. The Sacramento Kings have been here since 1985 and we epitomize what a one-team market is all about. When you think about our fans, we have some of the best records of attendance in the history of the NBA. In terms of the last 28 seasons, we have sold out 19 times. We have two of the longest sellout streaks in the history of the NBA. We have a top-20 TV market. When you think about that, the NBA owns 100 percent of the market share in Sacramento so we feel very, very strongly about our commitment in our market.
"More importantly, it's about civic pride," he continued. "They were looking to move, the Kings were looking to move to Anaheim, but our city stood up very strong. Our corporate community raised a significant amount of money, and right now in Sacramento we are doing a season ticket drive to let folks know that if we have new owners and a new building, our goal is to get 10,000 season ticket holders. We're about 7,500 already, so we feel very comfortable and confident about our market, and this team and this love affair between a city in the NBA is something that is very strong."
Another thing Johnson mentioned was the message it sends to the rest of the NBA's owners that any team is vulnerable.
"The owners, it is up to them to protect their brand and the association of the NBA. Not one team or one city is more important than the NBA. I certainly know that first-hand," Johnson said. "I think the owners frown upon moving a team from one city to another. They want to do everything that they can to preserve a team and a market. It's a death blow to the league and they don't want to do that. Normally when you have a team leave from one city, it's either a team is not being supported by the fans in the corporate community or they can't build a building.
"That is why the team left Seattle; they weren't getting the support they needed and they couldn't build a building," Johnson continued. "That is not the case in Sacramento. Our fans are some of the best in the NBA bar none, and we have two arena deals. We just had one approved two nights ago by council to make a $258 million investment in a brand new arena downtown and we had an arena deal approved a year ago. The two primary factors, we have addressed in Sacramento. It would be unprecedented for owners to say, 'We're going to pick up this team and move it to another city.'"
So Johnson is very confident. But keep in mind, Nash sometimes misses. And that's what Seattle is hoping.
Warriors' forward doesn't understand the reasoning behind the all-too-common double technical...

Hardaway Jr. gave a 'safe' call like he was an umpire in baseball

Barnes hits the trey with less than a second left to lift Mavericks to dramatic 95-94 vict...
Kevin Durant was once again back in Oklahoma City

Gregg Popovich has never seen an injury lead to the issues that Kawhi Leonard has been fac...

Kobe Bryant, of course, had his 81-point game against Rose and the Raptors back in 2006