Kevin Love carries Timberwolves through injuries, but it's not enough
Minnesota Timberwolves All-Star forward Kevin Love has seen a dream season go off the rails.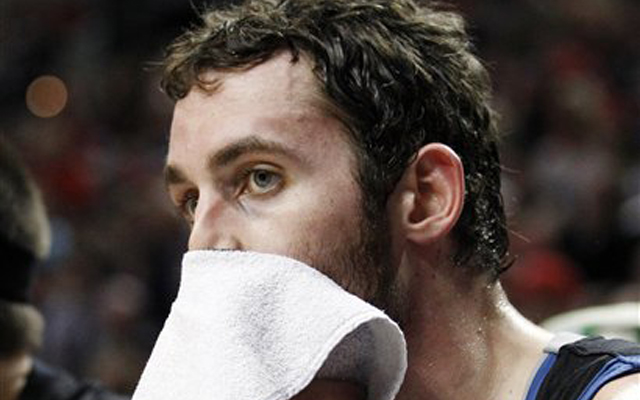 Kevin Love saw a dream season slip away when Ricky Rubio was lost to injury.
(AP)
PORTLAND, Ore. -- He's not quite ready to be named "Most Valuable" but he certainly looks "Most Valiant," his Braveheart beard covering a drained face, his body slumped after an eighth loss in the last 11 games.
All-Star forward Kevin Love dealt with hopelessness during his first three seasons with the Minnesota Timberwolves, playing for a first-time head coach who hadn't a clue the talent he brought to the table, playing with a revolving door cast of mediocre teammates and playing an endless waiting game for Ricky Rubio, the franchise caliber point guard who promised to save the whole situation.
Now, after a season that once promised a first playoff trip has gone sideways, Love deals with his first taste of
NBA
heartbreak and unrealized expectations. Minnesota is 4-9 since Rubio went down with a season-ending knee injury in early March. The Timberwolves have lost suddenly promising center Nikola Pekovic, key rotation guard J.J. Barea and mercurial forward Michael Beasley to various ailments in recent weeks so Love is back to fighting his patented one-man battles, night after night, playing out of position at center because the Timberwolves' rotation is so badly decimated. 
"He's carrying us, s***," Timberwolves guard Wayne Ellington said on Sunday, following a 119-106 loss to the Trail Blazers in Portland, a result that dropped Minnesota to the Northwest Division's basement and to 3.5 games out of the West's No. 8 seed with just 12 games to play.
More on the Timberwolves
Related links
More NBA coverage
Love's March 2012 was what they call an "instant classic," his play so eye-popping that his name wound up in the MVP short-list because the basketball intelligentia couldn't be expected to reasonably process his production. Love averaged 30.7 points and 13.9 rebounds over 16 games in March's 31 days; the month included four back-to-backs and just one stretch of back-to-back days off.
Along the way he put up a career-high 51 points and 14 rebounds against the Oklahoma City Thunder, the cream of the Western Conference's crop. He dropped 40 points and 19 rebounds in a badly needed road win against the Charlotte Bobcats, 36 points and 16 rebounds to carry Minnesota past the tanking Golden State Warriors, and 30 points and 21 rebounds in a win over the Denver Nuggets. Two wins over the Portland Trail Blazers in early March netted lines of 42 points and 10 rebounds in the first, 29 points and 16 rebounds in the second. 
"Look at the numbers he's putting up," Ellington said, shaking his head in awe. "To me, he's definitely in that [MVP] race. It's great to see because we've been together of the longest of anybody on our team. I came in my rookie year and it was his second year. We're the only two left [from] that team. It's great to see how he continues to get better and better and better and look where we are now."
The Lake Oswego, Ore. product was back in Portland on Sunday night, finishing with 26 points and 9 rebounds, drawing his match-up with Portland's All-Star LaMarcus Aldridge. Considering what's left of Minnesota's rotation, drawing even simply won't get it done, not even against a Blazers team that shredded its own rotation at the trade deadline, headed for a rebuild.
"If an off night is 26 points, I'll take it," Love said, looking exhausted, a bit lonely and anything but content. 
"Our team is a totally different team right now," said Timberwolves coach Rick Adelman. "We're not very big at the basket. We don't challenge a lot of shots."
Minnesota gave up 119 points to Portland, the second-most the hot-and-cold Blazers have scored all season. Portland swarmed Love, as anyone would now, and Aldridge confronted him face-to-face after the two got tangled up fighting for position. Love ignored the mental challenge, walking away unfazed, because he's seen every trick by this point and because there's no longer energy left to waste on sidebars. He's leading the NBA in minutes per game at 39.7, he's No. 3 in scoring at 26.5 points per game, he's No. 2 in the NBA in rebounds per game at 13.7 and he's No. 2 in free throws attempted at 8.6 per game.
Love is running a marathon with a motor that doesn't allow him to let up and with opponents constantly looking to knock him off stride. Without Rubio, it has become a grueling solo journey.
"It's very tough," Love said. "Losing Ricky was obviously the toughest thing for us. We were able to grind out games, get wins. Pek went down, J.J. continued to be hurt, he never got right with him hamstring and now his quad. With Michael out, he's added firepower. All four of those guys add something special to this team, when we were rolling we had everybody together."
Instead of Rubio's wizardy, Barea's change-of-pace and Pekovic's interior presence, Love watches as Adelman makes due with the stupid hair and stupid decisions of Martell Webster, the cluelessness of Anthony Randolph and an undersized frontline that is physically overmatched against almost every NBA game.
"We have four guys missing," Adelman said. "Four of our top six scorers are missing. That puts a little pressure on him... They were staying with him and they did what they had to do. He's been carrying us for a long time and we have to have other people step up."
To say Love is dealing with "a little pressure" right now is like saying LeBron James caught "a little criticism" for The Decision. Love is at one of the most frustrating nexuses: he knows his team needs more to turn things around but he also knows that he honestly has put forth maximum effort and it hasn't been enough. Internal factors aren't influencing these results; it's the accumulated injuries and the questions and holes they leave in their wake. When 51 points and 14 rebounds isn't enough to win a game, what can you really do?
Love so drastically transformed his body and game -- shedding weight and adding an array of offensive skills -- that he deserves to be on the periphery of the MVP discussion. But everyone, including Love, knows that he doesn't stand a real chance this season, not with the Timberwolves -- now 12th overall in the Western Conference -- limping towards an eighth straight Lottery appearance while James' Miami Heat and Kevin Durant's Oklahoma City Thunder cruise into the playoffs. You can't need to leapfrog the likes of the Houston Rockets, Utah Jazz, Phoenix Suns and the Blazers and expect to overtake established stars like James and Durant in a popularity contest.
"We still believe we can win but it's tough," Love admitted, understanding the math that separates him from his organization's objective. "It's very tough. We've got to win just about every game [to make the playoffs], a large majority of these games. It's still there for us but we're going to need a tremendous amount of luck."
As soon as he could finish that lament, he realized that he would be suiting up again in less than 24 hours with Minnesota's road trip continuing in Sacramento on Monday night.
"I've been playing a lot of minutes all season long," he said, sounding like a man without a life preserver watching the water level rise around him. "Now we're just heading into a back-to-back. I just have to get as much downtime and rest, [get] off my feet tonight." 
Come Monday night, you can be sure he'll be ready again. He'll keep doing what he's done all season: playing 30+ minutes, scoring 20+ points, grabbing 10+ rebounds and, somewhere in the back of his mind, wishing Rubio was still along for the ride.
Star players carry burdens and face an endless series of trials in the NBA, there's no escaping that. Love will leave this season having learned that lesson well.
The Cavs would reportedly entertain the deal, but there's really no point

Westbrook claims he doesn't remember calling Jackson's celebration 'bull----' back in 2016

Rose is reportedly sick of being injured, and it's 'taking a toll on him mentally'
SportsLine's proven computer model simulated Friday's Cavs-Hornets game 10,000 times

SportsLine's Mike McClure, a DFS pro with more than $1M in winnings, gives optimal lineup...

SportsLine's advanced computer model simulated Friday's Bulls-Warriors game 10,000 times