Kevin Love could miss the rest of the season
Kevin Love admits he could miss the rest of the season while trying to return from a broken hand.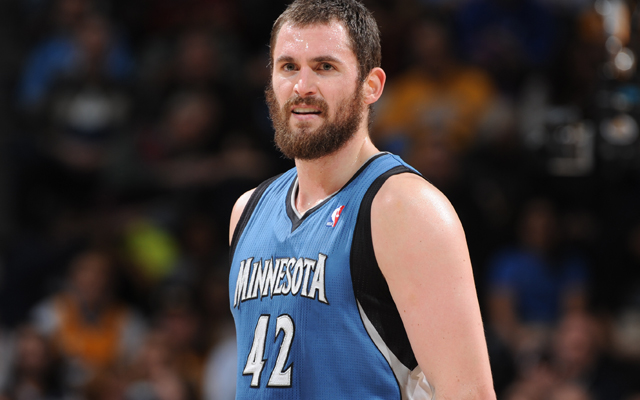 What was supposed to be an injury that would have him back at the end of March has been extended, and now Timberwolves forward Kevin Love acknowledges he might be done for the year after suffering a broken hand twice in a season. 
"If the doctor says another week to 10 days or something like that, who knows?" Love said before the Wolves' game Sunday against Chicago at Target Center. "I'd like to come back, but I know not playing (the rest of the season) has crossed the minds of other people, whether it's (Wolves president of basketball operations Kahn) David, Glen (Wolves owner Taylor) or coach (Rick Adelman)."
via Minnesosta Timberwolves star Kevin Love not sure he'll be back this season --TwinCities.com.
The Wolves were hoping to get Love back and at least build some momentum for next year. The list of players to miss significant time with injuries this season for the Wolves includes Love, Ricky Rubio, Brandon Roy, Chase Budinger, J.J. Barea, Nikola Pekovic, Andrei Kirilenko, pretty much everyone on the team.
It's a lost year for the Wolves, and it might end up being a completely lost season for Love, who had shown frustration with the lack of progress the Wolves had made around him. This year, though, the problems were systemic all the way through.
Just one of those seasons. 
The inaugural BIG3 season comes to a close Sunday with the championship game

Thomas was traded to Cleveland yet some fans are taking it out on him ... and his jerseys

The Celtics dealt the No. 1 pick to Cleveland as part of the Kyrie Irving-Isaiah Thomas tr...
Thompson was rumored to have been a point of discussion with the Cavs regarding Kyrie Irvi...

What the Celtics and Cavs look like after the Eastern Conference powers swap point men

Simmons was the No. 1 pick in the 2016 NBA Draft but did not play last season