Kevin Love finally lands, and LeBron's mission accelerates
Everything changed for the Cleveland Cavaliers when LeBron James decided to go home. With Kevin Love finally landing in Cleveland on Saturday, James' mission to bring his hometown a championship got real.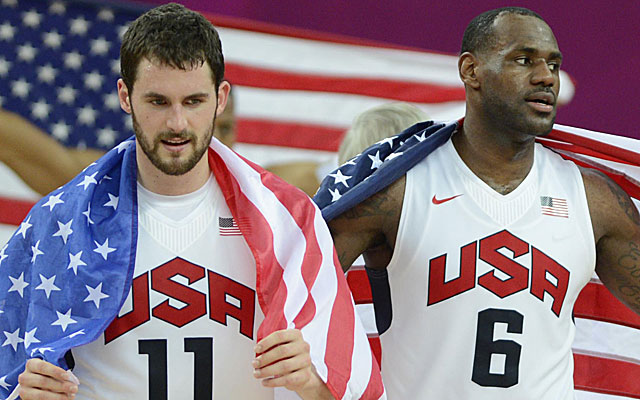 At the end of a Team USA practice this week at the New York Athletic Club, Kyrie Irving launched one 3-pointer after another from all around the arc. Teammate Kenneth Faried approached from the side and decided to have some fun.
"LeBron," he said. 
Irving didn't respond.
"LeBron!" Faried repeated. "Hey, LeBron!"
Finally, Irving turned around and shot Faried a serious glare.
"Don't call me that, bro," he said.
Yes, life, career arc and expectations all changed for Irving when James decided to leave Miami and go home to Cleveland in July. On Saturday, the other shoe dropped when the Cavs completed a trade for All-Star forward Kevin Love, giving the Cavs a capable Big Three as James embarks on the chase for his third championship -- and Cleveland's first in 50 years.
"It'll be good to have another dominant piece out there playing with me," Irving said. "That'll make the game so much easier. Having an opportunity to play with [James] is something I'm looking forward to and something I'm going to take advantage of, because the last two years, it's been difficult. I finally get some help."
More help arrived Saturday, when the Cavs finally were able to complete the Love trade 30 days after No. 1 pick Andrew Wiggins signed his rookie contract. It was the third time in four years that the Cavs had the No. 1 pick; losing the best player in the NBA will do that. Giving James and Irving another weapon cost them Wiggins and last year's No. 1 pick, Anthony Bennett, as well as their 2015 first-round pick, which came from Miami in the sign-and-trade that sent James to the Heat in 2010.
After winning 21, 24 and 33 games in each of his first three seasons, Irving's surroundings have improved significantly. 
"It takes a toll on you," Irving said. "We lost a lot of games and it was tough playing every single day. It's a test of your will and a test of your mental capacity. Honestly, I'm excited for the pieces that we have just because when I'm looking on my left and right, we have guys that play the game the right way. Not to say that we didn't have it, but we didn't have enough leadership, especially in our locker room.
"Now that we have LeBron and guys that I can actually learn from, veterans that have won championships, it'll be easier for me," he said.
James returning home changed everything, suddenly making Cleveland a free-agent destination. Mike Miller and James Jones joined him from Miami. Shawn Marion came aboard from Dallas. The next shoe to drop after Love could be Ray Allen, though a league source said Friday it still isn't a certainty that Allen will play next season, let alone for the Cavs.
Either way, Cleveland's offseason represented the most impactful transformation in the league, putting the Cavs atop the list of favorites in the East. The Bulls, of course, will have something to say about that if a healthy Derrick Rose is able to return to his MVP form alongside Joakim Noah, Pau Gasol, Nikola Mirotic and Taj Gibson.
"Y'all are trying to start this rivalry up quick, huh?" Rose said. "It's fun. [James] going back, doing what he wants to do, you can't get mad at him. Just for the East, it should be interesting. You have to think about the other teams -- like Charlotte, teams like that -- that have good players and are trying to find their identity. I think the East is going to be better next year."
When James announced his return in that Sports Illustrated essay, he spoke of a potentially long road to championship contention. The Cavs could've retained Wiggins and taken a more patient approach, but they'd been patient enough since James left. When you lose the best player in the world and then get him back, you're trying to win now.
And James knows better than anyone that he needs help.
"One guy is not going to win you a championship," said Faried, whose Nuggets missed the playoffs last season for the first time since trading Carmelo Anthony to the Knicks in February 2011. "LeBron noticed that and that's why he went to Miami with D-Wade and [Chris] Bosh. He wanted to go win a championship.
"Now, he's back in Cleveland and he's got Kyrie and Kevin Love to help him try to win another championship," Faried said. "People always say one guy can do it. [Michael] Jordan was one guy and he still wasn't able to do it by himself. Kobe [Bryant] wasn't able to do it by himself. That's why you have teams."
And that's why potentially the best one in the NBA resides in Cleveland, with championship-sized expectations to match.
Signing Phoenix's qualifying offer will clear the big man to become an unrestricted free agent...

Markieff Morris was already in line to miss the start of camp due to a pending assault cas...

The 76ers should hopefully get a lot of play out of their young guys this season
Okafor's been on and off the trade block for over a year and doesn't seem to be in Philly's...

Fisher is the fourth NBA player to compete for the Mirror Ball trophy on the show

Barkley commends the NBA, sarcastically, for extending the season and reducing back-to-back...