Kevin Love hints at wanting trade if Wolves don't make playoffs in 2013
Kevin Love hints at wanting a trade if the Timberwolves can't make the playoffs in 2013.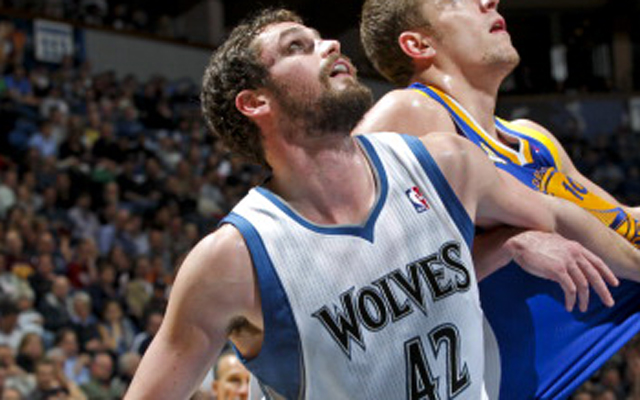 Love is not willing to deal with another losing season.
(Getty Images)
Well that didn't take long. Kevin Love wanted a better team faster. He got Darko Milicic and a wait for Ricky Rubio. Kevin Love wanted a max contract. He got a four-year deal with an opt-out after the third year. Kevin Love wanted to make the playoffs. He got another year coming up short (Ricky Rubio's injury did have an impact on that, though). 
And now? Now he's done wanting thing. He's demanding them. 
In an interview with Yahoo Sports, the All-Star power forward says that if the Wolves don't make the playoffs, he wants out. 
"It's tough seeing all these guys that are young and older who have all played in the playoffs. When they start talking about that, I have nothing to talk about. If I don't make the playoffs next year I don't know what will happen."

...

"If we don't make the playoffs, I don't know it's going to be me or something, but our management needs to step up and make some moves," Love said. 

...

"I don't know if we will blow up the team again, if I'll be moved," Love said. "I don't know.

"But something has to happen in Minnesota."
via Kevin Love losing patience with Timberwolves' losing, wants roster upgraded - Yahoo! Sports.
Well, then. 
Love also mentioned the fact that he was willing to sign a five-year deal, which he was eligible for, but the Wolves decided not to offer it in favor of keeping it, presumably for Ricky Rubio. Love expressed a lot of bitterness over that fact, despite signing the contract. Love has been consistently on this train about wanting better players and to stop the losing. It was assumed that Rubio, the addition of Rick Adelman as coach, and the new contract, regardless of length, would quiet things for a while. 
So much for that. 
Love's relationship with the Wolves has not been repaired enough by the addition of Rubio and Adelman. They are trying to obtain Nic Batum but it appears the Blazers will match. Love and management are still at odds. If the Wolves can't build off their success last year and translate it into a playoffs appearance, which is very possible, things could get ugly in Minnesota, and we could be facing yet another superstar trying to force his way out of a small market team that can't appear to win.
Teletovic missed the final three months of 2014-15 season with Nets recovering from same i...

Keep it right here for all of the news, notes, scores and highlights from around the leagu...

The NBA's City edition Nike jerseys are bold and very different
The Wolves may be smoke and mirrors, but the Pacers have the look of a team that can hang in...

LeBron said it might be difficult if the Lakers rookie ducks out of the way before he gets...

Galin Dragiev has his finger on the pulse of the Mavericks and just locked in a play for Thursday's...