Kevin Love is happy the Wolves got the 'bad blood' off the team
Kevin Love is feeling a lot better about his team now that the "bad blood" is out of the locker room. Well, who's missing from this season's roster compared to last?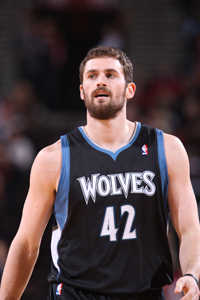 Kevin Love is happier now that some people are gone.
(Getty Images)
Take a look at this quote from Kevin Love, via the Pioneer Press:
"If we get everybody back healthy, with Ricky back healthy, if Roy comes in healthy, and if we can get off to a good start, we're going to be good. But we really have to add as many as pieces as we possibly can, veteran guys," Love said. "There was some bad blood in that locker room we were able to get out of there and smooth things out. That should help us out going forward."
Asked to maybe expand on that, Love responded, "Just what I said. We had bad blood in the locker room. We got that out."
To which we all just looked at last season's Timberwolves roster and compared it to this season's. The subtractions: Michael Beasley, Darko Milicic, Anthony Randolph and Martell Webster.
Checking those four names, I think I know which one everybody's going to really focus on. But the thing with Beasley is that his reputation has never been as a bad teammate, but more an immature but loveable knucklehead. Maybe Love and some of the leaders on the team didn't mix well with that kind of attitude.
Or Darko who David Kahn called "Manna from Heaven?" He did get benched from his starter's spot so maybe he had a frown. Anthony Randolph has always been an enigma; a supremely gifted player that never has put it together. And there's Martell Webster who has been a disappointment thus far in the league despite appear to have some talent.
Who is Love referring to? It doesn't really matter, does it? The fact is, whoever it was is now gone and Love feels a lot better about the construction of the roster. In comes Brandon Roy and Chase Budinger, they get Ricky Rubio back, they all grow another year.
Love is entering the first season of his four-year extension, in which he can opt out after year three. And there's been growing curiousity if he's happy with his situation in Minnesota and while he says he's happy, maybe now he actually is since the locker room has been purged of some unwanted personalities.
Stephen Curry, who grew up in North Carolina, wants to be part of the next Panthers ownership...

Vince Carter is destined for a Raptors reunion; he doesn't know when it'll happen

Thomas has a target date for his return, and with the Cavaliers scorching, this could be h...
LeBron James once again is using his platform to be socially active

Not many games, but still plenty of action and intrigue Sunday in the Association

Kobe Bryant had a solid piece of advice for back in 2016 when he left OKC for Golden State