Kevin Love thinks Glen Taylor should focus on new Wolves' players
After some critical comments by Minnesota Timberwolves' owner Glen Taylor, Cleveland Cavaliers' Kevin Love thinks Taylor should focus on new players.
Minnesota Timberwolves' owner Glen Taylor isn't someone who lets go of a star player without comment. After trading Kevin Garnett back in 2007, Taylor questioned Garnett's effort down the stretch of another lost season. Tuesday, he had comments critical of Kevin Love's defense, health, and the way he handled the trade situation, after he was dealt to the Cleveland Cavaliers for an incredible return to the Wolves.
When asked about it on ESPN radio show "Mike & Mike", Love responded by noting that emotions are running high and he wants to focus on his new experience in Cleveland. But he did also mention that he thinks Taylor should be focusing on Andrew Wiggins, Anthony Bennett, and Thaddeus Young, the impressive haul Flip Saunders got in the trade for Love. From ESPN.com:
"I think emotions are definitely running high right now," Love told "Mike & Mike." "For Glen to say that, I just think that he should be focusing on the players that he just received. I mean, he has two of the No. 1 picks in the last two drafts: Andrew Wiggins and Anthony Bennett. He has another guy who can really play in Thaddeus Young.

"I think he got a lot for me. So I'd be focusing even more on that. More than anything, I'm just excited to start my time in Cleveland, get to work with my new teammates, and start with this new family here."
These are mostly harmless comments by Love and they're valid too. Taylor shouldn't be fanning any flames in Minnesota and shouldn't start a war of words with a former employee. The Love era didn't work out for the Wolves and instead of being handcuffed into a less than stellar deal when having to deal away your franchise guy, the Wolves get to walk away with excitement, potential, and their heads held high. 
It's been a contentious situation between Love and the Wolves' management over the last two-plus years. He clashed with former Wolves' president David Kahn, and this came to a boiling point when Love, his agent, and Kahn were negotiating a contract extension in 2012. The Wolves refused to give Love the five-year max contract he was asking for, instead agreeing on a four-year extension with an opt-out after three years. Love was openly critical about the management of the team later in the year because there wasn't any consistency or continuity with the way the roster was being built under Kahn.
New president and coach Flip Saunders took over a tough situation with Love last year and put together the best roster had had played on in Minnesota. But it wasn't enough to get them to the playoffs and the Wolves maximized Love's trade value this summer instead of losing him for nothing next summer.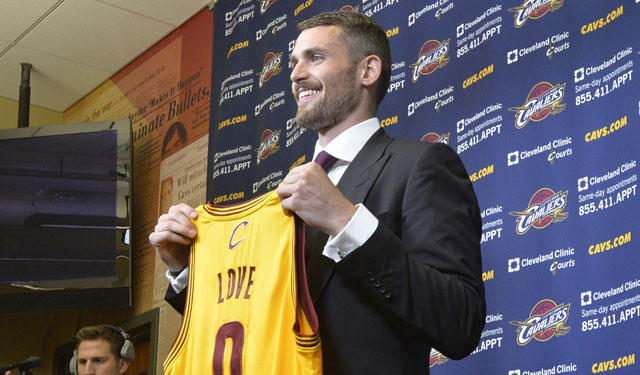 With 2K18 out everybody wants to know who has the 10 highest ratings in the game. Here's the...

Durant noted in an interview that all of the criticism in the immediate aftermath hit him...

Want the swagger of LaVar Ball? "NBA 2K18" lets you copy his absurd run from his WWE appea...
Durant apologized for a few tweets in which he criticized OKC and his former coach Billy D...

Lue does not expect the Cavs' big trade to affect the team's starting frontcourt ... at least...

Dwight Howard wants to be a farmer in his future and retire with his donkeys