Kevin Love: Timberwolves 'have a better team' than the Lakers
Minnesota Timberwolves star Kevin Love tells GQ Magazine the Wolves have a better team than the Lakers and he's currently having fun.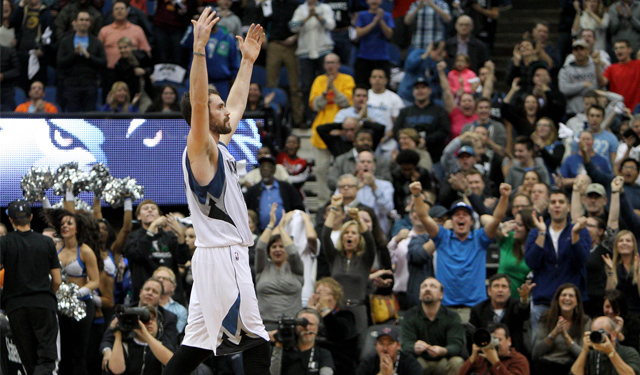 Everybody assumes Kevin Love is leaving the Minnesota Timberwolves and on top of that, everybody seems to assume he'll leave them to join the Los Angeles Lakers. That's been the feeling since David Kahn refused to give Love the five-year max extension and gave the power forward an opt-out option after year three of his four-year deal. With Love's free agency in 2015 looming, many pundits and fans are wondering when the Wolves will trade Love instead of risk losing him for nothing in free agency.
As of right now, Love doesn't necessarily see it that way. He tells Steve Marsh in GQ Magazine that the Wolves have a better team and a better foundation than the Lakers. He also says he's faving fun in Minnesota. 
Now that he looks like a leading man—and with free agency looming as an option at the end of next season, and the Wolves not exactly killing it on the court—everyone assumes that his next big move is to Los Angeles. He's dating actress Cody Horn, a California girl, and his Beach Boy uncle, Mike, co-wrote "California Girls." So fess up, Kev: You're gone, right?

"People think it's so far-fetched that I would stay in Minnesota," he says. "And I'm not shitting on the Lakers, but we have the better team, the better foundation. I'm having fun." Note the present tense.
As Marsh notes at the end of the blurb, noting the present tense is key here. The feeling seems to be that things are fine in Minnesota now but they have to get much better if they want to actually keep Love around. If you look at the foundations of the two teams right now, Love is 100 percent correct on the current state of the two organizations.
The Wolves have a much better mix of young and veteran talent. They're better on both ends of the floor. But the concern is that the Wolves are much closer to their ceiling than whatever ceiling would exist if Love went to the Lakers. The Lakers don't have much to offer right now. They'll end up with a high draft pick in the 2014 draft, which is good because they don't own their pick in 2015 (Phoenix does). The Lakers currently have Steve Nash and Kobe Bryant under contract after the 2014-15 season, with the possibility of keeping Kendall Marshall and Robert Sacre as well. 
There isn't a ton of flexibility to add a lot of quality players to the Lakers' core before Bryant retires because of his large cap number, but it certainly should be easier to add top free agents to Los Angeles than it would be to Minnesota, regardless of the cap situation. For now, the rest of the league will try to come up with trades to get Love out of there and Wolves fans will hold onto the hope of Love's involvement with the community and help designing the new practice facility as signs he'll stay.
Only Love knows for certain what his true intentions are regarding his upcoming free agency.
Victor Oladipo just wants to live his life and enjoy his breakout season with his new team

Keep it right here for all of the news, notes, scores, and highlights from around the Asso...

LeBron has a player option for next season, and is expected to opt out and become a free a...
The Pistons will be looking to snap a five-game losing streak when they host the Celtics on...

Bryant offers some advice for Ball and other rookies about having a sense of urgency in the...

Burks has stepped up in a big way for the Jazz, averaging over 20 points per game since Rodney...