Kevin Love trade idea Power Rankings: What will it take?
With Kevin Love and the Minnesota Timberwolves likely to part ways within the next year, who has the best offer for the Wolves right now?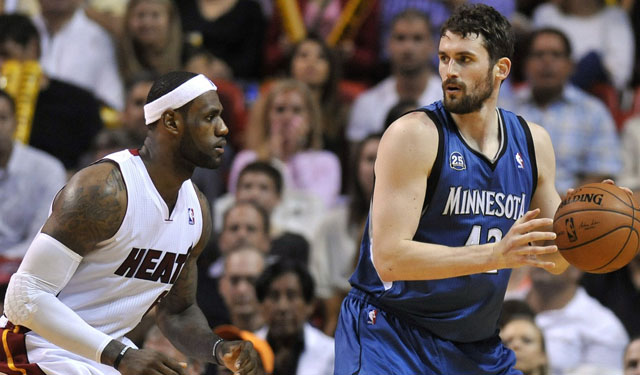 More Offseason Analysis: Coaching changes, news | Free Agency | Draft
Kevin Love is on the trading block and the Minnesota Timberwolves know the clock is ticking on them coming away with the best value possible.
There is plenty of debate about just how valuable Love is. The knocks on his defense are valid and overstated at the same time. He's arguably the best rebounder in the league. He has been a top-four scorer in the NBA in two of the past three seasons, with the other season being riddled with hand injuries. He's somewhere in the top 10, top 12, or top 15 players discussion depending on how much you value his scoring, passing, and rebounding over the defensive deficiencies.
Teams value him quite highly right now, and it's why there have been so many rumors surrounding how much of a coup it would be to acquire him. LeBron James reportedly wants him as a running mate in Cleveland. The Golden State Warriors want to try to keep as much of their core together as possible to create a super power in the West if they acquire him. And the Chicago Bulls know he could turn a pairing with a healthy Derrick Rose into a trip to the NBA Finals.
As for the Minnesota Timberwolves, they've gone 10 seasons without a playoff spot and are trying to decide whether it's better to remain competitive now, or find the next young star on their roster that will help them finally do a proper rebuild and set them up for long-term success. Some think the Wolves want to enter the season with Love on the roster, while others believe the window for having any leverage thanks to multiple trade partners will be shut once the season begins.
With all of these aspects of a potential deal up in the air, let's create a power rankings for the potential offers on the table for the Wolves.
5. However the Phoenix Suns decide to get involved
Wolves receive T.J. Warren, Markieff Morris, Marcus Morris, Archie Goodwin, Gerald Green, and two future first-round picks;
Suns receive Kevin Love
First of all, this isn't a reported trade offer by any means. It's more of me thinking the Suns could be the dark horse team to throw their hats in the ring and try to steal Love away from other suitors. This looks like a lot to give up for Kevin Love, right? Here's the crazy thing: it doesn't leave the Suns starving for talent by any means. They've accumulated so many assets over the last couple off-seasons that they're flush with tradeable pieces. The tricky thing for Phoenix getting involved is they have to find a way to add up the salaries to grab Love without including Goran Dragic or a sign-and-trade with Eric Bledsoe.
Alex Len or Tyler Ennis could easily replace a prospect or two in this trade package, but with the Wolves looking to extend Ricky Rubio, their drafting of Zach LaVine (they believe he can spend time at point), and their package of centers with Nikola Pekovic and Gorgui Dieng, it seems unlikely those young guys would be involved. Markieff Morris is the centerpiece of this deal on Phoenix's side and I'm just assuming through some twin connection Marcus Morris has to be included. The draft picks the Wolves would receive are the Lakers' top-five protected pick for next year and their own pick they owe to the Suns (top 12 protected next two years, then becomes a second rounder).
Why do the Suns do this deal? Sure, you're giving up five young/youngish players, but you're also acquiring a star for Dragic and Bledsoe to dominate next to. Look at what they did with Channing Frye and Markieff last year. Now imagine that's Kevin Love instead. As for the Wolves, they do it because it gives them the best group of assets moving forward and allows them to start shedding their other questionable salaries in a deal while including protected picks or existing players on the roster without depleting depth. More than likely, a third team would need to be involved in this made-up scenario.
4. Golden State Warriors' offer to remain 'competitive'
Wolves receive Klay Thompson, David Lee, Harrison Barnes, and future first-round pick;
Warriors receive Kevin Love and Kevin Martin
Flip Saunders likely doesn't view this alleged trade proposal as the fourth best. In fact, he might view this as the best-case scenario for his team. He'd be acquiring an All-Star power forward in Lee, a shooting guard who is high on the ranks of a very shallow position, a future first-round pick, and Harrison Barnes -- who could be very salvageable after two decent seasons. At the same time, he would be shedding the contract of Kevin Martin, which has three seasons left on it. The Wolves would probably believe that with their current roster and these additions, they would still compete for the 8-seed in the West, and they desperately need to make the playoffs after a 10-year drought and the 27th-best attendance last season.
But this deal doesn't make sense for the Wolves because of the money involved. It's great to think they'd be able to make the playoffs in the West while losing their star. In reality, the Wolves would being paying David Lee $30 million over the next two years, would have to either give Klay Thompson a max extension or match a max extension in restricted free agency, and they'd have Ricky Rubio's extension to hammer out as well. I'm guessing giving Thompson max money means Dan Fegan, Rubio's agent, would be foaming at the mouth in negotiations for his client.
In the 2015-16 season, the Wolves would likely be committing around $54 million to the core of Lee, Thompson, Rubio, and Pekovic alone, while still hoping to get lucky with the playoffs. And worse, they could be just good enough to be out of the top 12 in the draft in the next two years while still missing the playoffs, meaning they'd be spending big money just to give the Suns that first-round pick in one of those seasons. It's a move that keeps the Wolves competitive, but they'd remain a treadmill team. They'd be doing lots of moving, burning lots of calories, and not really going anywhere. Why would the Warriors do this deal? Kevin Love is a much better Splash Brother next to Stephen Curry than Thompson will ever be.
3. The Cleveland Cavaliers' offer sans Andrew Wiggins
Wolves receive Anthony Bennett, Dion Waiters, John Lucas III, Erik Murphy, and three future first-round picks;
Cavaliers receive Kevin Love
Would the Wolves actually blink first when it comes to dealing with the Cavaliers and not getting Andrew Wiggins back in the deal? I just looked at the Wolves' history of making key decisions and it's led me to believe this scenario has a high likelihood. Unless a third team is involved, the Wolves wouldn't be able to shed a bad salary in this trade. That means the only real leverage they could demand without Wiggins is making sure they get a lot of first-round picks in addition to the No. 1 pick in 2013 with Bennett and whatever they believe Waiters can become.
The three picks would be pretty simple. Relatively low protection on the Cavs' part for two of their future first-round picks (remember, this will be a title contending team so they're picking in the mid-to-late 20s) and then get the pick the Heat owe the Cavaliers from the LeBron sign-and-trade four years ago. Then the Wolves would likely cut the non-guaranteed contract filler, pray Waiters and Bennett develop to their fullest capabilities, and eat Jucy Lucy burgers until the tears are coming from the onions and not their own terrible decisions.
It's also possible if this is the scenario, the Wolves demand Tristan Thompson is in the deal instead of the contract filler. They probably only get a pick, maybe a second-pick in the deal if they're lucky. For the Cavs, they get to keep Wiggins, pair Love with LeBron and Kyrie Irving, and pencil themselves in for the NBA Finals for the next couple years.
2. The Chicago Bulls' forward platter
Wolves receive Taj Gibson, Doug McDermott, Mike Dunleavy, Nikola Mirotic, and a future first-round pick;
Bulls receive Kevin Love and Kevin Martin
This is the second best deal the Wolves can get if you believe in Doug McDermott and Nikola Mirotic. McDermott had a rough first game in Las Vegas Summer League and then seemed to shine the rest of his time there. People were very impressed with his scoring ability and his ability to find good shots no matter what the defense threw his way. Mirotic has been one of the top Euro prospects for a few years and Bulls' fans have been clamoring for him to come over. If he's legitimately a starting power forward in this league, then he's a great piece for the Wolves to use in their rebuild. If he and McDermott are capable of making an impact right away, Flip Saunders may get his wish of acquiring assets whilst remaining competitive.
Taj Gibson would, in theory, be a great veteran for the Wolves to flip immediately to a contender. This could even be done by involving a third team in the deal to move Gibson right away. He has no business being on a rebuilding team and should be contributing to playoff wins right away. The swapping of Dunleavy for Martin is an extra thank you for giving the Bulls one of the best stars in the NBA in Love. Worried about Martin as a defender? That's valid but remember Tom Thibodeau just had a competent defense with Dunleavy and Carlos Boozer on the floor together at times, so I think he can make it work with Martin.
Bulls fans would probably think this is giving up way too much for Love. Once they watched the big-to-big action between Love and Joakim Noah, or saw how spaced the floor is for a healthy Derrick Rose thanks to Love's ability to hit from 25 feet out, they'd have a hard time remembering the players they gave up in the deal. Rose never had a proper second gun to take the defensive focus off of him or to allow him to have more options at the end of close games. The pick-and-pop with Rose and Love could be legendary in Chicago. It wouldn't be Jordan-Pippen legendary, but it would get the Bulls back to the Finals if Rose is healthy.
1. The Cavaliers give up Wiggins
Wolves receive Andrew Wiggins, Anthony Bennett, Brendan Haywood, and a future first-round pick;
Cavaliers receive Kevin Love
If Wiggins ever becomes truly on the table for the Wolves in a Kevin Love trade proposal, the Wolves should stop worrying about getting enough in return or finding a way to shed a salary in the process. This is the dream scenario for the Wolves in every way. They need cheap, young talent coming back. They need this cheap, young talent to end up being a star right away or a couple years from now. They need someone who can sell tickets and get a morose fan base excited about not only the future but the present as well. That's exactly what Wiggins would mean for the Wolves.
Would he want to go to Minnesota and leave LeBron? Not if he's smart. Would it matter though, thanks to rookie contracts and restricted free agency off of that rookie deal? Not at all. You'd be trading for 7-9 years of Wiggins as a T'Wolf, and it would be the marketing steal this team craves. You'd have a marketable team of Rubio, LaVine, and Wiggins -- three exciting, young players that can light up a YouTube video. You'd have Gorgui Dieng as the center of the future. You could start moving veterans and bad deals to get a proper rebuild going. The coaching duties of Saunders might not like this idea more than the Warriors' proposal, but the part-owner and president of basketball operation duties would have to recognize this is the best scenario for the organization.
As for the Cavs, they do it because they get Love, who is likely to be better than Wiggins over the next five years (remember Love is only 25 years old). Those five years happen to be the remaining years of LeBron's prime, and you'd be maximizing the chance of winning titles in a city that allegedly isn't supposed to win titles. They'd still keep Thompson and Waiters, two guys they've been developing for a couple of years already. And the depth of the Cavs would be less in question than if you have to give three rotation guys in order to acquire Love.
It almost makes too much sense for both sides. It's the only way the Wolves should lean right now, and it's the move the Cavs should resist if they can, but ultimately give in to so they don't miss out on putting Love next to LeBron.
The good news is we have anywhere from a day to 210 days (2014-15 trade deadline) left of Kevin Love trade speculation, depending on when a deal is agreed to in principle and eventually executed.
Not many games, but still plenty of action and intrigue Sunday in the Association

Kobe Bryant had a solid piece of advice for back in 2016 when he left OKC for Golden State

An old rivalry is reignited between LeBron James and the Cavaliers and John Wall and the W...
SportsLine's Mike McClure, a DFS pro with more than $1M in winnings, gives optimal lineup...

LeBron had 29 points, 11 rebounds, and 10 assists in the Cavs' 109-100 win over the Jazz

The montage showed Carmelo's best Knicks moments before playing the Thunder game