Kevin Love traded to Cavs, Andrew Wiggins to Wolves in 3-team deal
Kevin Love is headed to Cleveland, Andrew Wiggins to Minnesota and yet another first-round draft pick to Philly.
• 3 min read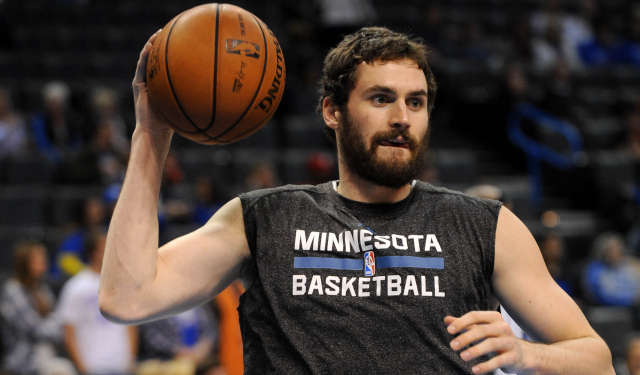 The Kevin Love deal is finally done. The Minnesota Timberwolves have sent the superstar power forward to the Cleveland Cavaliers in exchange for a package headlined by 2014 No. 1 overall draft pick Andrew Wiggins. It's a three-way trade involving the Philadelphia 76ers.
Cleveland receives: Love
Minnesota receives: Wiggins, Anthony Bennett, Thaddeus Young
Philadelphia receives: Miami's 2015 first-round pick, Luc Richard Mbah a Moute, Alexey Shved
The Timberwolves will introduce their acquisitions on Tuesday at the Minnesota state fair, the team announced in a press release.
"We are excited to add three young, talented and athletic players to our team in Andrew Wiggins, Anthony Bennett and Thaddeus Young," said Timberwolves head coach Flip Saunders. "With the additions of Wiggins, Bennett and Zach LaVine this summer, we have brought in three exciting young athletes who all have the potential to have an impact in this league. All three of them complement each other very well and we believe they will be foundations of our team for years to come. In Young we are getting a proven NBA player who is entering the prime of his career. Our fans will enjoy watching these exciting players this coming season and beyond.

"I appreciate all that Kevin, Luc and Alexey have done for our organization and wish them the best of luck with their new teams."

"I want to personally thank Kevin Love for his six seasons with the Wolves," said Timberwolves owner Glen Taylor. "On the floor, Kevin has worked hard to make himself a great player in the NBA. He also made it a priority to give back to the community through his Coat Drive and numerous other charitable endeavors. He represented the state of Minnesota well during his time with us and we wish him nothing but the best in Cleveland. I also want to thank Luc and Alexey for their contributions to the team and wish them well in Philadelphia.
From the moment that the Cavaliers won the draft lottery, there were rumors that they could swap the No. 1 pick for Love. Cleveland general manager David Griffin told reporters that he'd be open to anything, but once Wiggins was selected, he said the team was not looking to move him. Things changed when the best player in the world entered the picture. LeBron James went home in free agency, and at some point during that process it became clear that he and Love wanted to be teammates. Wiggins signed his rookie contract on July 23, which started a one-month countdown until he could be moved.
The Cavaliers sent the last two No. 1 picks away in this deal, but now arguably have two of the five best players in the NBA in their frontcourt. Both they and the Timberwolves should be thrilled with how this went down, as Minnesota now has an abundance of young, athletic players with star potential along with a proven starting power forward. Considering Love made it clear he would have signed elsewhere in free agency next year, Timberwolves general manager Flip Saunders deserves lots of credit for getting this much back for him. 
CBSSports.com's Zach Harper has already examined what this deal means for both the Cavs and the Wolves on the court. Cleveland could be one of the best offensive teams in recent memory, while Minnesota can roll out some fun lineups, stay somewhat competitive and build for the future.
As for Philadelphia, this continues general manager Sam Hinkie's streak of acquiring first-round picks. The 26-year-old Young can be a free agent next summer, and he wasn't part of the Sixers' long-term plans. They'll see if they can get Shved to play like he has in international competition rather than like he did in Minnesota, and Mbah a Moute can either be flipped to a contender or stick around and mentor Joel Embiid -- the two Cameroonians have known each other since Embiid was 17 and they met at a basketball camp.
The montage showed Carmelo's best Knicks moments before playing the Thunder game

KCP can't leave California for 25 days due to the terms of his pleading guilty to a misdemeanor...

Keep it right here for all of the news, notes, scores and highlights from around the leagu...
LeBron tried to keep what he said a secret, but one mic on the court picked it up

SportsLine's Mike McClure, a DFS pro with more than $1M in winnings, gives optimal lineup...

'It's not just about me, it's for the next crew as well,' LeBron said