Kevin Love's game and improvement are as unique as they come
Over his six years in the NBA, Kevin Love has been defying odds and statistical ceilings. When will it ever be enough for his team?
More NBA: Power Rankings | Expert Picks | Latest news, notes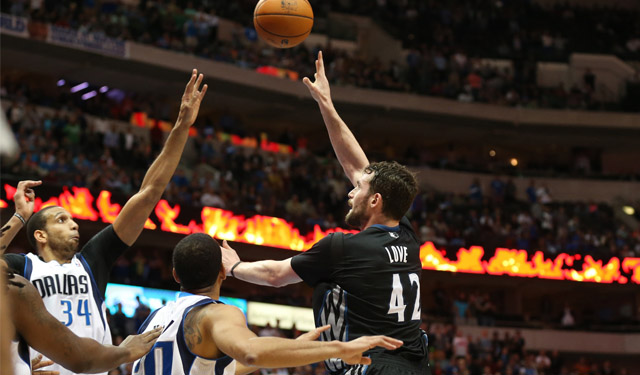 When Kevin Love came into the league, he was a bit of a novelty. He was a relatively pudgy, big man who was known for rebounding, outlet passes, and video of him sinking two-handed chest passes from all over the court.
For a lot of Minnesota Timberwolves fans, he simply looked like a guy who could be a nice rotation player some day. There wasn't anything overly impressive about his game, outside of the rebounding and the cool outlet passes. You didn't look at him as much of a scorer because you weren't sure where he'd attack and the Wolves already had Al Jefferson to be a scoring big man for the team.
In just 28.6 minutes per game in the 2009-10 season, Love averaged a double-double. It wasn't an overly impressive double-double in terms of wowing you with the way he was scoring. He simply outworked most big men under the boards, often getting more resistance from inside the organization. A bit of a malaise by NBA players for the FIBA World Championships coupled with Love's double-double averages led to him being included on the 2010 Team USA FIBA team.
It was from that moment on we saw a transformation in how Love approached being an NBA player. In the 2010-11 season, Love exploded onto the statistical scene. His team wasn't winning but they also didn't have much talent next to him. Michael Beasley was probably the second best player on that roster; Luke Ridnour was probably the third. Love put up historic numbers, averaging 20.2 points, 15.2 rebounds, and he shot 41.7 percent from 3-point range. It was the first time anybody had ever done that.
The next season, Love walked into the media room on Wolves Media Day to address reporters about the upcoming season. Jaws dropped. There was a hush over the crowd. Love looked 30 lbs. lighter than we previously saw him; taking the cliché of "being in the best shape of his life" heading into training camp as something serious. It was at that moment that you knew Love was going to move toward becoming one of the best players in the league.
In the process of becoming an NBA star, Love has battled quite a few things outside of opposing defenses. There was then Wolves' assistant coach Randy Wittman telling Love to abandon the 3-point shot. He had to earn the respect of the team's president of basketball operations David Kahn, which some would argue he never did. He had to fight through inconsistent minutes from Kurt Rambis. And he had to battle criticism of empty stats that never lead to wins.
After a second breakout season in 2011-12 in which he received MVP consideration when the Wolves were in the playoff race prior to Ricky Rubio tearing his ACL, Love followed that up with missing 64 games in 2012-13. He broke his hand prior to the season starting, then broke it again in early January. It was part of an injury-riddled Wolves' season that curbed projections of finally making the playoffs for the first time since 2003-04.
And yet, Love has bounced back this season, even better than we knew him before. While he refuses to foul players at the rim, leading to giving up shots inside, his defense has been more engaged. The team is actually a full point per 100 possessions worse defensively with him on the bench than they are with him on the floor. His passing out of the high-post for Rick Adelman's offense has led to some remarkable point creation by him. And the numbers he puts up on a nightly basis are still historically rare.
Love is currently averaging 26.5 points, 12.8 rebounds, and 4.2 assists. This would be only the 17th time in NBA history someone has averaged 26-12-4; something six other players beside Love have done. Love would be the only player in NBA history to put up these numbers while making at least a single 3-pointer in the process. He has a franchise record 154 of them this season.
The problem still though is figuring out how valuable he is to his team. However, you want to measure his individual contributions, he's always near the top of the league. PER, win shares, win shares per 48 minutes, plus/minus -- he's off the charts in all of those measurements. He's even been doing all of this for a winning team this season.
Minnesota is 34-32, the best they've ever been in a season not involving Kevin Garnett. Unfortunately for Love and Wolves fans, the Wolves are in the Western Conference and all but mathematically eliminated from postseason play with 16 games to go. Another season without the playoffs is another worry about Love's impending free agency when he opts out of his contract in 2015, another bullet to be dodged from the David Kahn era when he refused to give Love the five-year max extension.
It's up to Flip Saunders, the new president of basketball operations and part owner, to convince Love this is the place to take the next progression in his career, if that doesn't come in the 2014-15 season. They've gone out of their way to make Love feel as important as he wanted to feel with that five-year max deal. They had a social media campaign to help garner votes for their power forward, which led to Love starting the All-Star Game in New Orleans. He even was consulted for input on how to make the new training facility being built into the best it can be.
They just have to find a way to make sure he's around long enough to put it to good use and find a way to make his next improvement by putting in work in that building. 
Until he finally makes the postseason, his stats will always be talked about as empty statistics by naysayers. Those same naysayers are also secretly hoping he decides to sign with their franchise in 2015 when he makes the biggest decision of his career. Does he continue building with the Wolves and finally pull them into the playoffs under his next career progression? Or does he bolt for sunnier winter climates and start fresh?
The scary thing for Wolves fans is there aren't a lot of people outside of the organization who believe he'll stick around. The scary thing for the rest of the NBA is that I'm not even sure Kevin Love has stopped improving his game. He's still putting up historic numbers and making them look routine. 
Six years later, Love is still a novelty. We've never seen a player like him before and most of us still aren't quite sure what we're even seeing.
A look at who came out ahead after Tuesday's megadeal swaps the point guards on the East's...

How the addition of IT changes the Cavs and where they go this summer depending on LeBron's...

Ainge said that he expects the start of Thomas' season to be delayed, but he'll be 'fine'...
The NBA MVP odds have shifted quite a bit following the blockbuster Kyrie Irving - Isaiah Thomas...

It's debatable whether Boston gets better right away with Irving, but the future is definitely...

Kyrie Irving was set to grace the cover of this year's video game in a Cavs jersey -- whoo...