Kevin McHale on Rockets' moves: 'I understand kind of why we did it'
Houston Rockets' coach Kevin McHale doesn't sound too confident in why the Rockets made the moves they did this summer.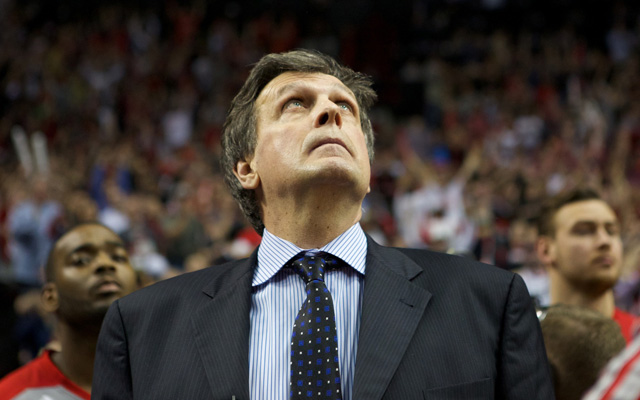 More Offseason Analysis: Coaching changes, news | Free Agency | Draft
The Houston Rockets had huge aspirations for this summer. They were primed to add a big name free agent with a shrinking window of cap flexibility, then match whatever offer sheet was thrown Chandler Parsons' way. It was going to give them a third star, their prized role player, and the ability to match any star power opposing them in the playoffs. But they missed on Carmelo Anthony, never had a chance at LeBron James, and were rebuffed by Chris Bosh. Then they let Parsons walk to the Mavericks after signing Trevor Ariza.
Jonathan Feigen of the Houston Chronicle has quotes from Rockets' coach Kevin McHale, which make him sound quite confused about the direction of this team. He says he understands "kind of why we did it," but they're going to miss having Parsons and aren't going to have the type of continuity they'd like to have.
"Well, I mean, hey I understand kind of why we did it," McHale said, choosing his words carefully. "I know they're talking about flexibility. I like Chandler. He's a big part of what we did and what we do. I'm going to miss having him, but that's part of the business I guess. We got to replace not only Chandler, but we have to replace (Omer) Asik and we have to replace Jeremy (Lin) so we have a lot of work to do.

"We'll see who we get. We have to sign players. We're just going to keep grinding away. And we're going to go out and play. I like Trevor. I think he can help us. He shot the 3-ball well last year. We're going to need him to do that again. Defense. Leadership. We need some experience."

"We'll have four or five guys in our rotation that weren't in it last year, but I guess that's part of it," McHale said. "I think everybody would want continuity. Continuity helps everything, but you play the hand you're dealt. Right now, we're not going to have the continuity we'd like.
The offseason has been a mess instead of a boon for the Rockets. They ruined the flexibility for player retention they were hoping for and ended up losing three role players from last season in order to sign Trevor Ariza. They traded away Jeremy Lin to the Lakers and Omer Asik to the Pelicans to have the room to sign a free agent. Ariza fills a need for them, but only because they let Parsons walk away from the team by not matching the three-year, $46 million contract the Mavericks gave him.
McHale's comments don't read like the most confident in the direction of the team, but they still have quite a bit of talent on the roster. They may need him to devise a tighter game plan, especially on defense where the Rockets were torched in the playoffs in their first round exit at the hands of the Blazers.
If there's any justice, the basketball gods will give us the Golden State-OKC playoff series...

Pachulia fell onto Westbrook in a questionable manner during Saturday night's game

Butler suffered the injury on Friday night against the Rockets
Pachulia fell onto Westbrook after they both got tangled up with Nick Young

The extent of Butler's meniscal injury isn't yet known, but there's reason for Wolves fans...

No timetable was provided for Butler's recovery