Kidd says he wants Deron Williams to average double-digit assists
Coach Jason Kidd says he wants his point guard Deron Williams to average double-digit dimes. Is that reasonable/possible?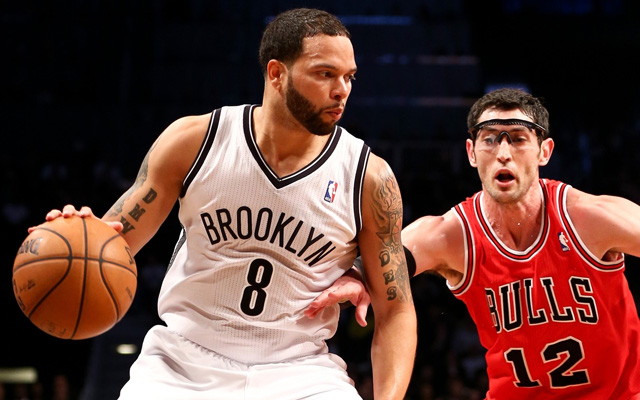 Nets coach Jason Kidd (... yup, still sounds weird) told reporters over the weekend that he wants Deron Williams to get back to averaging double-digit assists this season. 
"I'm going to push him. I want the best for him," Kidd said after signing autographs at the Nets' merchandise store in Coney Island. "When we sit down and talk about goals, team goals and also individual goals, I'm going to push him and I want to get him back to double-digit assists."

Williams hasn't averaged at least 10 assists since 2010-11, which represented the fourth straight season he eclipsed that mark. Last season's 7.7 assists per game was Williams' lowest output since he was a rookie. And as the assist numbers dipped in the last two seasons, so did Williams' shooting percentage.

But there was a tangible turning point, which Kidd referenced Sunday. After undergoing multiple procedures to his inflamed ankles during the All-Star break, Williams dropped about 15 pounds by changing his diet and exercise routine.

"You don't want to take away from Deron's freedom and creativity of putting pressure on the defense," Kidd said. "And I thought he did a great job of that in the second half of last season. When he lost the weight, physically he felt better. His strength is when he's in the open court. So we'll definitely talk about that on the daily, about him making things happen without having to set the ball up."
via Jason Kidd has a statistical goal for Deron Williams | New York Daily News.
OK, so "coach wants player to play well" doesn't exactly set the world on fire as far as news goes. But this is a former player, a future Hall of Fame point guard putting a set statistical benchmark for his star. That's kind of interesting, especially when Williams hasn't been there in three years. 
Even after the ankle procedures helped him break out in the second half of the season, he still only averaged eight per game after the All-Star break. But that's not the biggest impediment to him hitting double-digit dimes.
The Nets' numbers last season were skewed by pace and provide a great example of why you want to use so-called "advanced" metrics like per-possession data to evaluate players. For example, the Nets were 17th in points per game, and sixth in points allowed. But anyone watching them could tell you they were great offensively and pretty shoddy defensively. The secret is that they were the third-slowest team, coming in at 28th in pace (possessions per game). Per estimated possesion, they came out as the eighth-best offense (and were top five for much of the year) and 17th defensively, a much better indicator of how they played. 
How does this relate to Williams? The team plays at such a slow pace, it's harder to rack up raw numbers. Think of the numbers the mid-'00s Suns put up in "7 Seconds or Less." Playing at that pace means more possessions, which means more opportunities. If Kidd doesn't radically increase the Nets' pace, hitting double-digits is going to be really difficult for Williams. 
On the other hand, among players playing 30 minutes per game, Williams was seventh among players in assist percentage (percentage of available assists dished). That puts him ahead of Jrue Holiday and just behind Russell Westbrook (yeah, Westbrook passed a lot last season, not that anyone noticed). It's a more reasonable expecation to get Williams into the top five among qualifying players in assist percentage than assists per game, not just because of pace, but because hopefully, Williams won't have to play the long minutes necessary to reach that mark.
Still, it's interesting to see a coach talk about a benchmark, and it's clear that Kidd has high expectations for Williams' play this season. 
HT: SLAM Online
The awards are voted on by peers in the NBA and adds to Russ' league MVP award he won this...

Minnesota is facing even bigger expectations headed into next season, and they'll be difficult...

When the NBA MVP odds came out, it got us thinking: Will stat-compiler Russell Westbrook win...
Durant labeled the Cavs' situation as a regular problem in the NBA

James takes to Instagram for a better look at the Cavs' new Nike-made uniforms

Kevin Durant says he doesn't agree with what President Donald Trump agrees with