Kidd says Nets passed on Jason Collins, thinks someone will sign him
Nets coach Jason Kidd said this weekend that the Nets considered signing Jason Collins before opting not to, but that some team will sign the openly gay center.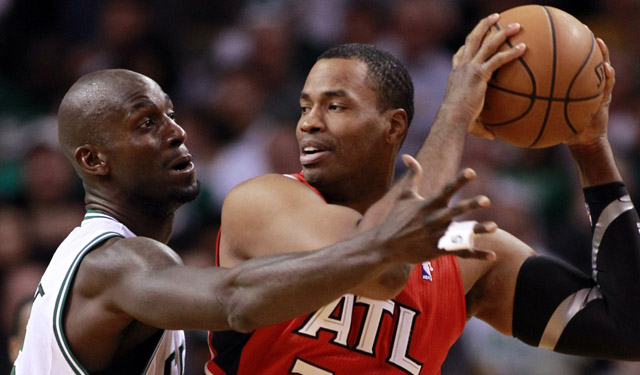 Jason Kidd told reporters over the weekend that the Nets had looked at free agent center Jason Collins, the first openly gay active NBA player, but ultimately passed on him. 
Jason Collins, who would become the NBA's first openly gay player the next time he plays, was a candidate to join Brooklyn's roster, according to Kidd.

 But the Nets passed on the 34-year-old center, who remains a free agent after playing with the Wizards last season.

"He wants to play still. For that, there was talk (with the Nets)," said Kidd, who was teammates with Collins in New Jersey. "But we have 15 spots already filled. That was something that we did talk about in the summer."

"I think he can still play," Kidd added. "His knowledge as a veteran. There's always a veteran that can help a young team. I think he'll find a job at some point here."
via Jason Kidd has a statistical goal for Deron Williams | New York Daily News.
The NBA has to hope so. The longer Collins goes unsigned after his revelation in April that he's a homosexual, the more it looks like Collins is being passed over because of his sexual orienation. The Pistons were among the teams that have considered but elected not to sign the veteran center. It's impossible to determine the real root of the decisions, given that Collins has been a fringe NBA player the past two seasons despite a successful stint with the Hawks two years ago.
Collins, 34, averaged one point and one rebound per game last season for the Celtics and Wizards. 
We've got you covered for all the scores and highlights from Sunday's NBA games

The Cavs superstar compared Kaepernick to Martin Luther King Jr. and Muhammad Ali

The Warriors coach isn't surprised that the president and LaVar Ball are in a war of words
Kyle Kuzma is tired of how his teammate Lonzo Ball is being treated

The Warriors used a huge third quarter to come back from a 23-point deficit to get the win

Three takeaways from Golden State's 24-point rally past the Sixers