Kidd's power play lowers NBA coaching craziness to new depths
Jason Kidd wanted control. Instead, he got his name on the latest episode of NBA coaching and front office craziness.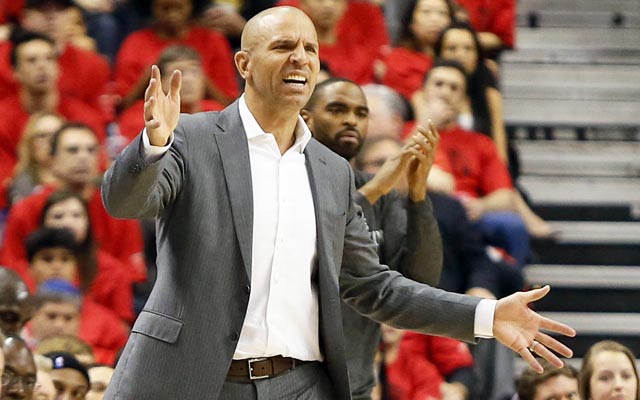 More: Bucks get permission to interview Kidd | Front office in dark
Jason Kidd was a Hall of Fame point guard, one of the best to ever play the position. None of that experience taught him anything about how not to overplay your hand in the wild, increasingly cutthroat world of the NBA coaching and front office business.
In a bizarre turn of events even for the NBA, Kidd pushed Nets owner Mikhail Prokhorov in recent weeks to reward him for his one 44-win season as the team's coach and put his name at the top of the masthead. Kidd wanted more than a job on the bench; he wanted control.
Kidd, who signed a four-year, $10.5 million deal to coach the Nets last summer, watched as other former players with the same amount of coaching experience blow past his paycheck as though it were standing still. Steve Kerr and Derek Fisher got five-year, $25 million deals to coach the Warriors and Knicks, respectively. Kidd, a franchise hero with the Nets, still has a player's mentality when it comes to his new career. For player's of Kidd's era -- maybe every era -- respect and stature can only be expressed in two ways: dollars and power.
Kidd didn't have either with the Nets.
"He wanted it all," one league source said of Kidd's failed power play Saturday night.
The New York Post first reported one of the biggest head scratchers in the NBA coaching ranks in years.
According to one account from a person briefed on the matter, Kidd wanted Prokhorov to make him president and coach and to install his own people around him in the front office. Prokhorov, the person said, told him no. The matter had been building for weeks, and finally unraveled in the past 24-48 hours.
Kidd's plan wouldn't necessarily have meant the end in Brooklyn for GM Billy King and assistant GM Bobby Marks, but make no mistake: Kidd wanted to surpass them in the pecking order and believed his hand was strong enough to make it happen. This after King and Marks put their faith in a rookie head coach to lead a team with the highest payroll in NBA history, and involved Kidd at the highest levels in every personnel decision.
With his bid for a Doc Rivers-Gregg Popovich role with the franchise he almost singlehandedly resurrected in the 2000s, Kidd then asked for -- and was granted -- permission to interview with the Milwaukee Bucks. Funny story about that: The Bucks have a coach, Larry Drew, and a general manager, John Hammond. Figures at the highest levels of the Bucks' front office -- which just invigorated the franchise with the selection of Duke's Jabari Parker No. 2 overall in the draft -- had no inkling that the team's new ownership group was inviting Kidd in for an interview to be their boss.
This isn't fiction, mind you. This is real life in the NBA.
A Bucks co-owner, Marc Lasry, has strong personal ties to Kidd. One person briefed on the matter said Lasry at one point served as Kidd's financial advisor. Now, he could be Kidd's boss. However things work out with Kidd's gambit in Milwaukee, it is almost impossible to imagine Kidd returning to coach the Nets next season.
"I don't see it," one person briefed on the bombshell turn of events said.
If Kidd wants to leave, it is believed that the Nets would demand compensation in the form of a future draft pick to let him out of his contract. It could be a messy affair, not to mention what kind of impact it will have on future Hall of Famers Kevin Garnett and Paul Pierce and their desire to stay in Brooklyn or retire (in Garnett's case) or find a new home (in the case of Pierce, who is a free agent). 
A player, which Kidd used to be, typically waits until he's a free agent or close to it before leaving a franchise or forcing his way out. He proved to be a quick learner in the coach's chair, realizing that coaches are, in effect, always free agents. In a business that has gotten ever more demanding and ruthless, Kidd's power play tells you everything you need to know about just how bizarre it is, too.
LeBron will be judged by what come's next as Cavaliers and Celtics under even more pressure...

A look at who came out ahead after Tuesday's megadeal swaps the point guards on the East's...

How the addition of IT changes the Cavs and where they go this summer depending on LeBron's...
Ainge said that he expects the start of Thomas' season to be delayed, but he'll be 'fine'...

The NBA MVP odds have shifted quite a bit following the blockbuster Kyrie Irving - Isaiah Thomas...

It's debatable whether Boston gets better right away with Irving, but the future is definitely...