Kings center DeMarcus Cousins believes it's all his reputation
Sacramento Kings center DeMarcus Cousins believes his reputation is what led to his ejection against the Milwaukee Bucks.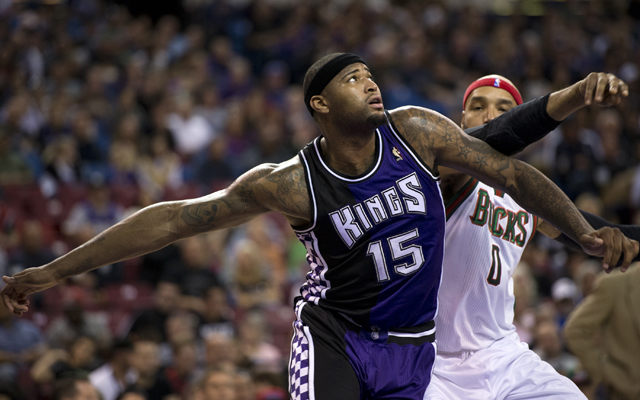 As we wait to find out if DeMarcus Cousins of the Sacramento Kings will receive further punishment for his Flagrant 2 Foul against Mike Dunleavy of the Milwaukee Bucks, Cousins had no problem telling reporters that it was his reputation that earned him the first technical foul and then the ejection.
Even though he didn't practice because of a bruised thigh that happened during the initial collision with Dunleavy, the young big man for the Kings spoke after practice Tuesday and said his ejection was unfair. Via the Sacramento Bee:
"The whole decision was based off my reputation, which is unfair," Cousins said.

Cousins yelled angrily at the Bucks' bench after the boxout but maintained he was calm and in control of the situation.
Cousins said he didn't know why he received a technical foul for the "altercation" and that he simply asked Dunleavy if the whole thing was intentional. What was Dunleavy's alleged response?
After a timeout, Cousins confronted Dunleavy while walking back onto the court, where Cousins asked if the low boxout was intentional.

"Actually, I was cool about it because I really didn't know if he did it on purpose," Cousins said. "And that's what I asked him, 'Was that on purpose?' And his response was, 'What if it was? What you going to do about it?' "
It was Cousins' fourth ejection of the season. It's possible he is correct that his reputation is giving him a shorter leash with league officials right now, but that's still something he has to figure out how to change. It doesn't come with complaining to the officials and reacting with your entire body whenever the next call doesn't go your way. Cousins has built up a reputation, especially with his actions this season, and he continues to put himself in situations to make it worse.
Cousins said the elbow wasn't "really" intentional.

"If you see the replay, it's really not as hard as he acted it out to be," Cousins said. "It really wasn't."

So if the elbow wasn't meant for Dunleavy's head, what was Cousins doing? Did he know Dunleavy was there?

"I was just trying to get around the screen," Cousins said.

If there was no intent, was it just a coincidence the elbow came right after Cousins confronted Dunleavy?

"It was really bad timing," Cousins said.
When told of Cousins saying it wasn't intentional, teammate Isaiah Thomas laughed at that assertion and said he couldn't comment on that. After the game, Jason Thompson basically said there's only so much advice you can give a teammate but everybody in the league is a grown man and is going to do what they want to do.
And that's where we continue to be with Cousins. The talent is there; the decision-making and attitude are all wrong. Coaches can't control it. Teammates can't control it. Agents and friends can't control it. It's simply up to Cousins, except he doesn't see it as a problem. Cousins believes the only way to change his reputation is to win.
It would help if he won and stopped making terrible decisions on the court when it comes to his reactions and attitude, but I guess that's asking a lot. 
(H/T - Sactown Royalty and Cowbell Kingdom)
Cuban weighed in on the ongoing feud between the basketball dad and the POTUS

Embiid has taken his trash-talk game to the next level this season, but he's not scared

Last year Durant said returning to his old home was 'never going to be a regular game'
The All-Star forward injured his wrist during Sunday's loss to the Lakers

Steven Adams believes he's the problem with the Thunder struggles in the clutch

LaVar claims that Luke Walton has been 'soft' on Lonzo so far