Kings decision a no-win for NBA
As NBA owners gathered on Wednesday to begin deciding the fate of the Sacramento Kings, the issues at stake could have repercussions for any number of teams in the future -- maybe even yours.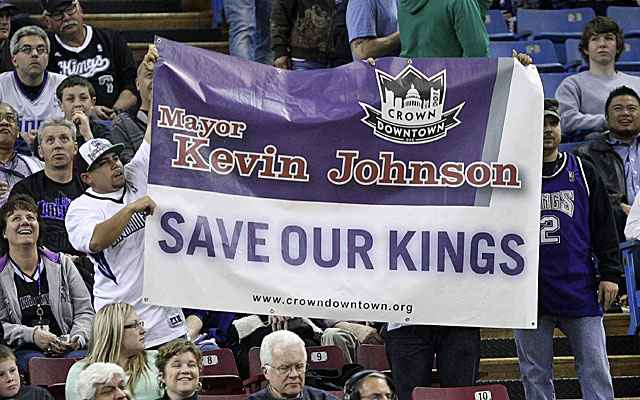 NEW YORK -- As owners pored over details of competing offers for the Sacramento Kings on Wednesday, here's hoping they weren't enjoying themselves too much. Sure, the fine china and h'ors d'oeuvres at a posh Manhattan hotel must be great, but the process that the NBA is going through is not.
Moreover, it shouldn't be repeated.
The league has seen six franchise relocations during David Stern's tenure as commissioner, and the Kings would be the seventh if sold to the group led by Chris Hansen and Steve Ballmer, who would move the team to Seattle. As a 12-owner committee met Wednesday to ponder its recommendation to the full Board of Governors, this has been framed as a tale of two cities that are equally deserving. Each has proven itself to be a viable NBA market. Each has the framework of plans for a new arena in place. Each has a passionate fan base eager to plunk down hard-earned dollars to support an NBA team.
What's not to like about either place? It's not until you consider how a similar debate might be framed in your own NBA city that you realize what's truly at stake here.
If you live in such a city, where the fans have supported the NBA and your team has had its ups and downs and the arena has seen better days and needs to be replaced, you should be paying very close attention to what the NBA owners do about this Sacramento-Seattle dilemma.
What if your team in Milwaukee or Minneapolis or Indianapolis or San Antonio becomes the apple of an investment group's eye in another city? What if they put together an offer your current owner can't refuse, and push another arena boondoggle through the state and local governing bodies in their neck of the woods? What if your city mobilizes its constituents, marshals all its resources and puts together a grassroots campaign to save the team, and then approves an arena project that you'll be asked to finance? (You know these projects are never as beneficial to the community as you're promised. But you don't care, since you want to keep your team.)
What then?
It all depends on how this bidding war for the Sacramento Kings turns out.
Look beyond the fact that both Sacramento and Seattle are deserving and have presented equally compelling offers to be home to the Kings. We know what that means to Seattle and Sacramento; one city will win, and one city will lose.
What does it mean in your small-to-mid-market NBA city? If the owners approve the sale and relocation of the team to Seattle, to put it quite bluntly, it means that this could happen to you, too.
What typically happens when a sports franchise relocates is that the existing city cannot or will not pony up to finance a new arena for the billionaire owner to enjoy. This is what happened during the events leading up to the SuperSonics' departure from Seattle to Oklahoma City in 2008.
That is not what has happened here, with the Kings. And while I'm sure you believe that the owner of your NBA franchise isn't as fickle or clueless as the Maloofs, the fact remains that if Hansen, Ballmer and the city of Seattle can make a bid for the Kings -- backed by their billions and built on the promise of a fervent, committed fan base and a publicly financed arena -- then rich guys from some other city could do that for your team.
Someday, you could be anxiously awaiting the outcome of some board meetings in New York to find out whether your team will stay or go.
We don't know what will sway the 12 owners on the committee in their recommendation to the full board, and we don't know what will guide the owners' decision when they cast their votes. League sources say a final vote on the matter is not expected at the full board meeting Thursday and Friday.
We do know what Article VII of the league's constitution and by-laws sets forth as the criteria for relocation, which requires majority approval. (Transfer of ownership requires a three-fourths majority.) In short, the constitution requires the relocation committee to consider the support of the team in the existing market, the ability of that market to continue supporting the team and the same conditions in the proposed new market. It also requires an analysis of the demographic breakdowns of the two markets in question, including for TV purposes, and whether there is another owner who might want to move his team to either city.
Article VIII has to do with the viability of the temporary arena accommodations in each city and an analysis of which city has a more ironclad plan for a new arena. Construction details and potential obstacles -- political, environmental or legal -- to the proposed arena plans in each city are the crux of why owners are expected to need more time to make a final decision.
These are the cold, hard facts of what is, in the end, a business transaction. Now that we've gotten to this point, the people of Seattle and Sacramento are not fans, but geysers spewing imaginary money. Which will produce more?
But the outcome has the potential to alter the leverage the owners will have in future negotiations with existing or potential NBA cities, while also setting an uncomfortable precedent for existing franchises that could become vulnerable to poaching.
The 12 owners on the combined relocation and advisory finance committees considering these issues on Wednesday were Clay Bennett (Thunder), James Dolan (Knicks), Wyc Grousbeck (Celtics), Peter Holt (Spurs), Herb Simon (Pacers), Larry Tanenbaum (Raptors), Glen Taylor (Timberwolves), Ted Leonsis (Wizards), Micky Arison (Heat), Jeanie Buss (Lakers), Robert Sarver (Suns) and Greg Miller (Jazz). If they find one offer clearly more compelling and beneficial than the other, their instincts will be to decide that way. But if the math computes in Seattle's favor, they might want to be careful what they wish for.
What ground will owners seeking new arenas in the future have to stand on if Sacramento does everything it is asked, including agreeing to build a new arena, and loses the team anyway? Moreover, if Seattle is successful, what's to stop billionaires in Anaheim, Kansas City, Las Vegas or points unknown from targeting a vulnerable franchise in the future and starting this process all over again?
There was nothing sinister about the motives of Seattle officials or the Ballmer-Hansen group here. They lost an NBA team, shouldn't have lost it, and they want one back. The city and the proposed owners haven't done anything wrong. They've followed all the rules and have made a compelling case to restore NBA basketball to a great city.
The point is that there is a lot riding on this transaction beyond the two cities involved. The issues that are in the hands of 12 owners, and then the full panel of 30 convening Thursday and Friday, could have serious ripple effects for any number of teams down the road.
Maybe even their own. Maybe yours.
Thomas took to Twitter to let the Celtics know he doesn't want to ruin Pierce's night

The Hall of Famer was a seven-time All-Star with the Celtics, and was MVP of the 1976 Fina...

It's rare to see a legit punch in an NBA fight, but this was definitely one of them
We've got all the scores, highlights and news from an NBA Tuesday

The former Slam Dunk Contest champion will take his talents to Tri-State

Do NBA players have look-a-likes from famous paintings? We found out on the new Arts & Culture...