Kings' DeMarcus Cousins apologized to Sean Elliott for incident
Last season, Sacramento Kings' DeMarcus Cousins confronted San Antonio Spurs' announcer Sean Elliott following their game. He apologized to Elliott for the run-in.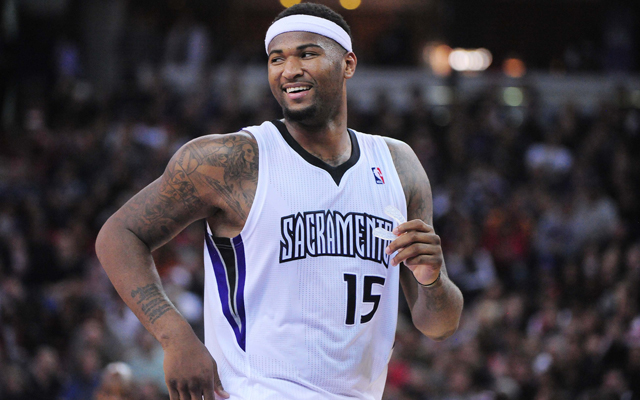 More NBA: Power Rankings | Expert Picks | Latest news & notes
During a tumultuous 2012-13 season, Sacramento Kings center DeMarcus Cousins wasn't pleased with comments San Antonio Spurs' color commentator Sean Elliott. He confonted Elliott after the game and the confrontation was heated/inappropriate enough for the league to suspend Cousins for two games after they investigated what was said between the two during their conversation.
After Friday's Spurs' win over the Kings, Sacramento Bee reporter Jason Jones tweeted that Cousins had apologized to Elliott for the run-in. Perhaps this is a sign of some maturity from Cousins as we've seen a much more subdued person off the court this season?
DeMarcus Cousins apologized to Sean Elliott over their run-in last season that led to Cousins being suspended 2 games for confronting him.

— Jason Jones (@mr_jasonjones) March 22, 2014
Cousins initially called Elliott immature for comments about the Kings' big man during a stretch in which he talked some trash to future Hall of Famer Tim Duncan before Duncan outplayed him during the next stretch on the court. Elliott did what he does and started boasting about his former teammate during the broadcast:
"That's why some humility is in order," Elliott said on the air. "You think you're dominating Tim Duncan, you get it stuffed right back in your face. Timmy doesn't like to talk trash. But if guys start talking mess to him, he's going to respond. All that trash talking was premature. I'm not about to let these guys off the hook. Young ballclub should learn from this. Don't start talking and flapping your gums against one of the greatest players ever. He's going to make you pay. Tell me who got the best of this exchange."
The suspension was appealed by Cousins before he eventually served the two-game suspension.
A look at who came out ahead after Tuesday's megadeal swaps the point guards on the East's...

How the addition of IT changes the Cavs and where they go this summer depending on LeBron's...

Ainge said that he expects the start of Thomas' season to be delayed, but he'll be 'fine'...
The NBA MVP odds have shifted quite a bit following the blockbuster Kyrie Irving - Isaiah Thomas...

It's debatable whether Boston gets better right away with Irving, but the future is definitely...

Kyrie Irving was set to grace the cover of this year's video game in a Cavs jersey -- whoo...