Kings' DeMarcus Cousins still hasn't heard from Shaquille O'Neal
In June, Shaquille O'Neal vowed to make Sacramento Kings center DeMarcus Cousins the world's best big man. Cousins still hasn't heard from him.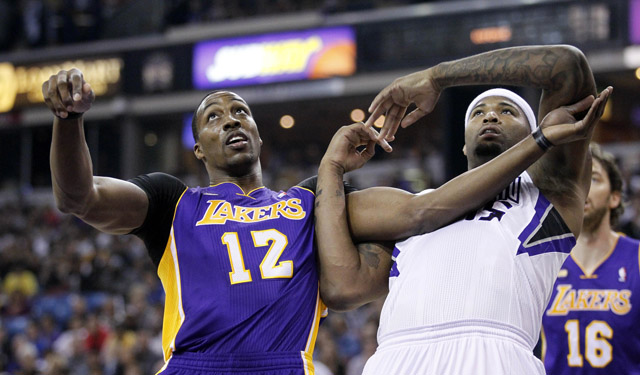 Back in June, Shaquille O'Neal met with new Sacramento Kings owner Vivek Ranadive. After that meeting, one of the most dominant players in NBA history said he'd love to work with Kings center DeMarcus Cousins and "make DeMarcus Cousins the best big man in the game." It was an encouraging sign that after new ownership took control of the Kings, legends started stepping forward and wanted to help the Kings' best player realize his potential.
There's just one little problem with that vow from Shaquille O'Neal: Cousins apparently hasn't heard from Shaq since and is waiting on the future Hall of Famer to start working with him. Jason Jones of the Sacramento Bee reports that Cousins said that Shaq hasn't been in contact with him in any form.
The Kings' big man, entering his fourth season, said he'd love the opportunity to work with one of the greatest centers of all time, Shaquille O'Neal.

After meeting Kings principal owner Vivek Ranadive last month, O'Neal pledged to help "make DeMarcus Cousins the best big man in the game."

That's fine with Cousins, but he's still waiting to connect with O'Neal.

"I have not heard from Shaq at all," Cousins said. "Not a tweet, DM [direct message], nothing."
O'Neal has seemingly been on a crusade for years to get Dwight Howard to become a dominant player by needling him through comments given as an analyst on television and through various media outlets. He's implored Howard to stop joking around so much and get a mean streak in him that will help him dominate in the post and do damage at the rim like Shaq used to do. Howard hasn't been too interested in Shaq's advice/complaints, instead opting to take his career into his own hands and go about it a different way.
Working with Cousins would certainly help Shaq rub it in the face of Howard if he could find a way to turn the size and potential of Cousins into the dominant low post force many people believe the Kings' center could be. Transforming Cousins from a guy who took 27.1 percent of his shots from 16 feet or farther, and getting him to dominate the paint and raise his 46.5 percent field goal percentage to something a lot more acceptable would certainly give Shaq his weapon to challenge Howard as the best big man in basketball.
But again, Shaq hasn't been in contact with Cousins, according to Cousins. It's almost as if Cousins right now is like:
"Shaq, I respect you. And this is crazy. But here's my Twitter handle; DM me maybe."
A mic on the court evidently picked up what the Cavs superstar had to say to the Lakers ro...

The idea was to bring Bell along slowly, but he's making it harder and harder to keep him on...

Donovan Mitchell kept the top spot in the rankings, but there was plenty of shuffling below...
Stephen Oh is 23-7 picking Rockets and Spurs games and just locked in a play for Friday

SportsLine simulated Friday's Sixers-Thunder game 10,000 times

Cavs star chose to be very secretive when talking to Lakers rookie after Thursday's game