Kings F Thomas Robinson traded to Houston in six-player deal
Kings trade fifth overall pick Thomas Robinson in six-player deal to Houston for Patrick Patterson and assets.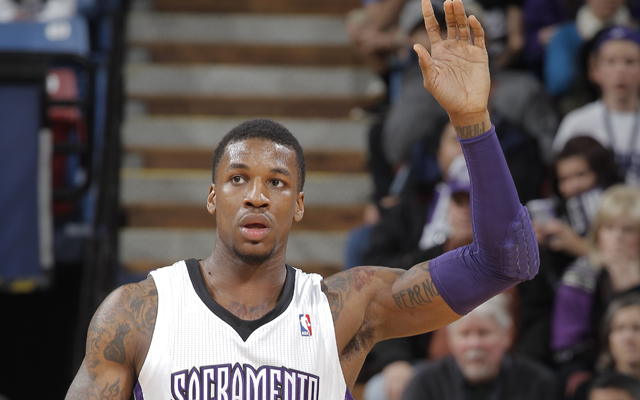 Thomas Robinson will be a Rocket.
(Getty Images)
Update 12:56 a.m.: The Kings and Rockets have confirmed this trade, it's official.
Yahoo Sports and USA Today report that the Kings have traded 2012 fifth overall pick Thomas Robinson to the Houston Rockets along with Francisco Garcia and Tyler Honeycutt and a second-round pick for forward Patrick Patterson, center Cole Aldrich, Toney Douglas, and cash. 
It's an awful lot to give up for Robinson as the primary piece. All three players for the Rockets were rotation players, particularly starter Patrick Patterson who has played well this year. Toney Douglas was the first guard off the bench and closed several games due to his defense. Robinson certainly has considerable upside but is 21 already, not a one-and-done guy, and the other two are largely irrelevant. 
Patterson was an expiring contract this season, so it may be simply a matter of Houston GM Daryl Morey avoiding a numbers crunch in what will be a big summer of free agency for the team.
Additionally, Houston has repeatedly sent rookies Donatas Motiejunas and Terrence Jones to the D-League, and it's possible this move was just made to clear space for them. But then, why take on the money? The Kings, cheapskates in a cheaper than usual mode, save about $3.6 million.
In a separate move, the Rockets traded F Marcus Morris, who had been wanting more playing time, to the Suns for a future second-round pick. That move will clear the money and make this a savings deal, but that's a lot to give up. 
The Kings definitely improved with this deal, getting quality rotation players, but they don't care about that as they dump money before an attempted relocation to Seattle. 
This thing's kind of weird. As usual, Daryl Morey is mysterious.
The Cavaliers won the much-anticipated matchup, 121-112

Two of the league's most interesting teams will meet on national TV on Friday night

A mic on the court evidently picked up what the Cavs superstar had to say to the Lakers ro...
The idea was to bring Bell along slowly, but he's making it harder and harder to keep him on...

Donovan Mitchell kept the top spot in the rankings, but there was plenty of shuffling below...

Stephen Oh is 23-7 picking Rockets and Spurs games and just locked in a play for Friday