Kings GM Pete D'Alessandro: 'We feel very strongly' about Isaiah Thomas
Isaiah Thomas is entering restricted free agency, and his future is uncertain.
• 2 min read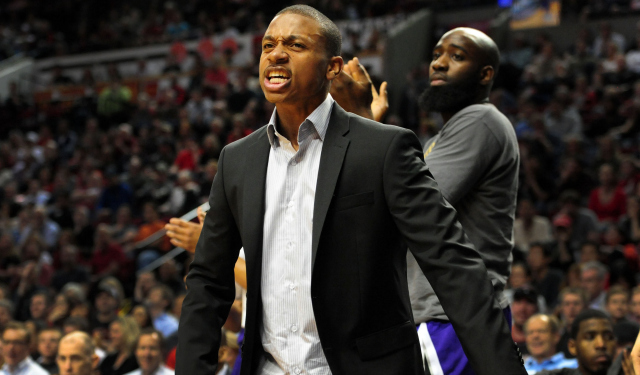 More Offseason Analysis: Coaching changes, news | Free Agency | Draft
The Sacramento Kings will, as expected, issue point guard Isaiah Thomas a $1.1 million qualifying offer to make him a restricted free agent this summer, general manager Pete D'Alessandro said, via Jason Jones of the Sacramento Bee. This is a no-brainer for a player who averaged 20.3 points, 6.3 assists and 2.9 rebounds per game with a PER of 20 last season. 
Thomas, Gay and center DeMarcus Cousins all averaged at least 20 points, making the Kings the only team in the NBA last season with three players averaging 20 or more points.

While there has been debate over whether Thomas is best suited as the starting point guard or a scorer coming off the bench, the Kings will consider ways that are sensible financially to keep the trio together.

"We loved what our three guys did last [season]," D'Alessandro said. "We feel very strongly about Isaiah. What I can say is obviously we'll give him his qualifying offer and we'll have very good discussions with his agent at the appropriate time, but we feel good about the three of those guys."
This past year was the best season of Thomas' career, and, after Greivis Vasquez was traded in December, the first in which he was an unquestioned starter. His production should have ended the debate about whether or not he's a starting-caliber NBA point guard. Still, opinions vary on what the Kings should do with him.
Is it worth investing money in a core that hasn't experienced much winning? It'll likely depend on what other teams are willing to offer him in restricted free agency. This might explain why the team has reportedly engaged in preliminary trade talks involving Thomas, via Jake Fischer of SLAM.
Thomas told Basketball Insiders' Alex Kennedy that he doesn't know what the future will hold, but he likes the direction of the team:
"I'm just going to approach it with an open mind because I don't really know what to expect," Thomas said of free agency. "I've never done it and never been a part of it. I'm just going to go in with an open mind. I've done the best I could possibly do and I've controlled what I can control and that's by going out there and giving it my all and leaving it on the floor. The rest is in God's hands. It's up in the air and I know everything happens for a reason. I'm going to be alright."

...

"You never know," Thomas said. "You've got to do what's best for yourself. But at the same time, like I've said since day one, I love Sacramento, I love the coaching staff, I love the new ownership. They've done nothing but great things for me, but you never know. With this business, anything can happen."
Thomas added that Sacramento head coach Mike Malone "was the first guy that really let me be me and embraced me for being me." It would seem that, if the money is right, this could remain a happy partnership. 
The Pistons put out a long list of details regarding their new uniforms

The Pacers traded the forward to OKC for two former lottery picks who have yet to reach their...

Gilbert said what was expected, but didn't necessarily sound all that confident
Altman addressed the media about Irving during his introductory news conference

Toronto's center has an uncertain future; can we still talk about this 25-year-old's poten...

Oakley was vague with his response on when he'd attend another Knicks home game