Kings officially announce buyout of Jimmer Fredette
The Kings have officially bought out guard Jimmer Fredette.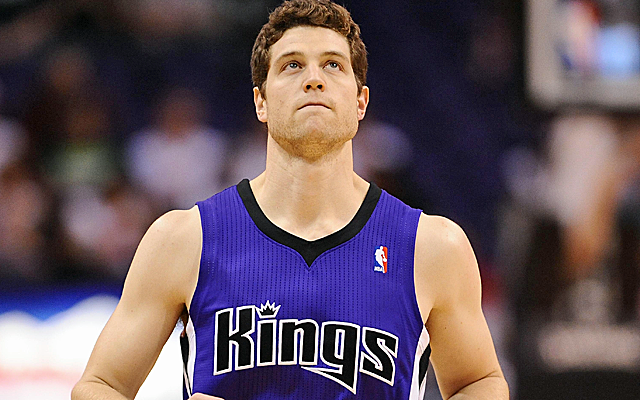 The Jimmer Fredette era in Sacramento is officially over. 
The Kings announced Thursday they have come to a buyout agreement with Fredette, placing him on waivers. After 48 hours if he clears waivers, he'll become an unrestricted free agent. 
"This was a very tough decision, but we're confident that the agreement reached today represents the most productive path forward, both for Jimmer and the Kings," said general manager Dave D'Alessandro. "Echoing a sentiment that everyone who knows him appreciates about Jimmer, he's a tremendous person and a consummate professional. We thank him for the meaningful contributions he made to the team and in the Sacramento community. On behalf of an entire organization, we wish him nothing but great success in the future."
The Kings took Fredette with the 10th overall pick in 2011, but weren't ever to fully develop him into the scoring star he was at BYU. With other players playing in front of him at his position, he never really got the necessary playing time. 
The Kings shopped Fredette hard before the trade deadline, but couldn't find a taker. 
Potential candidates for Fredette once he clears waivers could be the Bulls, Grizzlies, Heat, Thunder or Spurs. 
Fredette is averaging 5.9 points and 1.5 assists while shooting 49.5 percent from 3 in 41 games this season.
The former Slam Dunk Contest champion will take his talents to Tri-State

Do NBA players have look-a-likes from famous paintings? We found out on the new Arts & Culture...

Larry Hartstein is on quite a run in picks involving the Suns and the Trail Blazers
Rodman's agent says he is urging the ex-NBA star to check into rehab

The players and referees are working to fix a relationship that has recently been deterior...

The locker room heist is going to lead to plenty of fines and maybe some suspensions from the...