Kings using Hall of Famers to convince Rudy Gay to opt in with team
The Sacramento Kings are trying to convince forward Rudy Gay to let them pay him $19 million next season.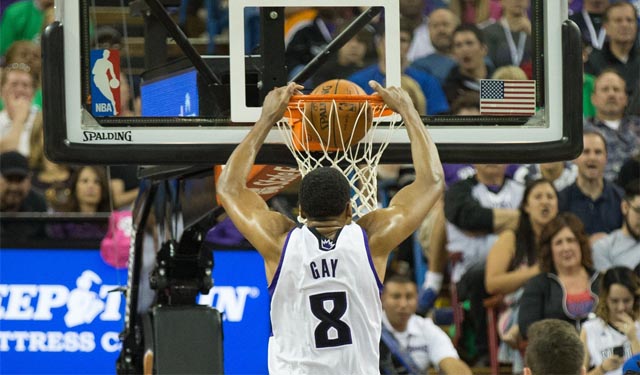 More postseason coverage: Playoff schedule, results | Latest news, notes
The Sacramento Kings are hot in the pursuit of one of their own players. Rudy Gay has a player option for the 2014-15 season, which would pay him $19.3 million for the 82-game campaign. As he decides whether or not to get that money for one season or to become a free agent in hopes of getting a nice long-term deal, the Kings are sending in a couple of Hall of Famers to convince him to opt in for next season.
Marc Spears of Yahoo Sports is reporting the Kings are sending Mitch Richmond and Chris Mullin along with their owner, general manager, and coach to a meeting with Gay in Sacramento on Tuesday. The point of the meeting is to convince the forward that he should let the team pay him nearly $20 million.
Sacramento Kings officials are bringing two Hall of Famers to meet forward Rudy Gay on Tuesday in hopes of convincing him to exercise the option in his contract for next season, sources told Yahoo Sports.

Gay has to decide by June 30 whether to exercise a contract option that will pay him $19.3 million next season. Hall of Famers Chris Mullin and Mitch Richmond, a former Kings star, are expected to join Kings owner Vivek Ranadive, general manager Pete D'Alessandro and head coach Michael Malone when they meet with Gay.

Gay was originally expected to have the meeting in his offseason home of Memphis, but preferred to have it in Sacramento.

When asked recently about his decision process, Gay told Yahoo Sports: "I'm just taking my time. That's all."
The Kings will also be showing Gay a digital rendering of the new arena that will be built in downtown Sacramento that is sure to be state of the art when it's finished. It will be delivered on digital eyewear -- presumably Google Glass, which the Kings have been big on in the past -- as they send the forward on a 3-D virtual tour of the arena.
The team acquired Gay from the Toronto Raptors in December this past season. After shooting 38.8 percent in the first 18 games of the season with the Raptors, Gay turned his shooting accuracy around by making 48.2 percent of his shots with the Kings in 55 games. He averaged 20.1 points, 5.5 rebounds, and 3.1 assists with the Kings. 
Larry Nance Sr. starred for Cleveland from 1988-94

The hotline comes in the wake of the 'Sports Illustrated' investigation into the Dallas Ma...

Giannis, who spent last weekend in L.A. for the All-Star Game, says he loves 'low-key' Mil...
We have all the scores, highlights and news from the first day back from the All-Star brea...

Smart, set to return Friday, said doctors told him he was very lucky that the glass did not...

Word got back to Irving that the team was discussing options, and he didn't like it one bi...