Klay Thompson 'got that vibe' Warriors won't deal him for Love
Splash Brothers think the Warriors are committed to them in the face of a Kevin Love trade.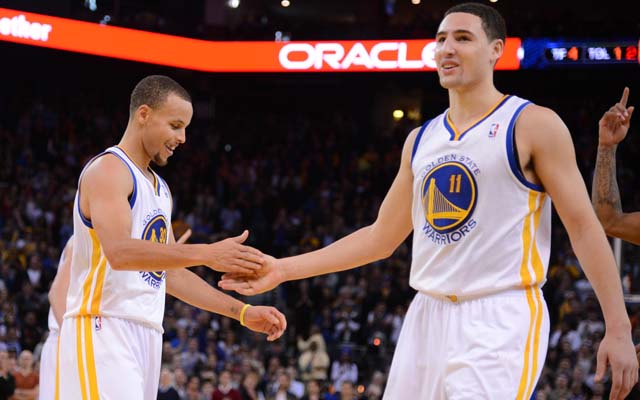 Offseason: Free Agency | Latest from Ken Berger | Rumors
Yahoo Sports spoke with Golden State Warriors guards Klay Thompson and Stephen Curry over the weekend and both players feel that Thompson will not be traded for Kevin Love, or in any other deal.
Golden State has balked at moving its starting shooting guard and Thompson said he "got that vibe" from new Warriors coach Steve Kerr that he wouldn't be traded.

"We got a good core. I feel we have one of the better backcourts in the league," Thompson, referring to his backcourt mate Stephen Curry, told Yahoo Sports on Sunday.

"I feel like we have a team that can do big things. Health is going to be huge, but I feel like we can make big strides this year.

"The fact that I haven't been traded yet makes me feel comfortable. That speaks for itself."

Thompson is taking part in USA Basketball's training camp beginning Monday with hopes of making the World Cup team. Curry is also vying for a roster spot and he doesn't believe Thompson will be traded.

"Every year there is some rumor in play and teams are trying to make a power move," Curry said. "But they've made a decision, at least it seems like they have, that Klay is an investment they don't want to give up. That speaks volumes to what he has been able to do in his career and his potential. I'm happy that he's my backcourt mate."
via Klay Thompson, Stephen Curry don't believe Golden State will break up backcourt duo for Kevin Love - Yahoo Sports.
The Warriors, at least for the moment, have decided that getting Kevin Love isn't worth breaking up the Splash Brothers. That's the key to looking at the situation. If you examine both players, Thompson and Love, in a vacuum, Love is better. It's difficult to argue against that, in any way. But it's the contextual element that really starts to complicate the matter. 
From Sports Illustrated: 
What Golden State faces now, though, is the assessment of Thompson's offerings against a promising alternative. There is no question that Thompson and Curry are a formidable pair. But how much is Thompson really worth? Is he so valuable that he could justify turning down a deal for Love (which would also unload the $30.5 million owed to David Lee over the next two seasons, offset somewhat by the likely acquisition of Kevin Martin's three remaining seasons)? Is it so perfect a fit that it would justify paying Thompson upwards of $15 million a season over the life of his next deal? Decisions like this one involve more than an understanding that Thompson is a good, two-way player. Such broad definition lends itself to argumentative warping, namely to the end of claiming that Thompson is a better situational defender than the evidence can support.
via Warriors wise to value Klay Thompson, but not at the expense of Kevin Love - NBA - SI.com.
But that also depends on what you think Stephen Curry needs. Does he need an independent creator, able to manufacture offense independent of Curry to draw attention? Or does he need a weak-side weapon to punish efforts to help down against Curry in the pick and roll. Does he need a pick-and-pop partner and someone to operate as a decoy? 
Either way, the two shooters think they'll be staying together, which will make proponents of the two as "the greatest shooting backcourt in the history of creation" very happy. One interesting questionI have is what their career shooting percentages look like. In many ways, the two are already outliers. Curry has shot better off the dribble and on contested shots than on open, uncontested shots. Their percentages are so otherworldly you wonder what happens if they have even a small regression to the mean. 
For instance, when the shooting wasn't a supernova last season in the playoffs, the Warriors exited after a seven-game series against Los Angeles that was mostly warped by a.) foul trouble in Game 1 and b.) the chaos of the Donald Sterling situation in Game 4. Maybe those elements weren't intercedent as much as it seems, but it's an interesting quandary for the Warriors: are these two really the same guys they've been the past two seasons for the rest of their careers?
The Rockets are on fire, and my money is on Durant to join LeBron and Harden in the MVP ra...

Then-Lakers owner Jerry Buss eventually shot down the idea

Bryant will have both No. 8 and No. 24 raised to the Staples Center rafters on Monday
The Lakers will be retiring Kobe Bryant's No. 8 and No. 24 jerseys at halftime

The Nuggets will look for their second-straight win with Nikola Jokic back in the lineup

This composition is absolutely amazing