Knicks acquire Felton in sign-and-trade with Blazers, may not match offer for Jeremy Lin
Report: New York Knicks will not match Rockets offer sheet, will sign-and-trade for Raymond Felton.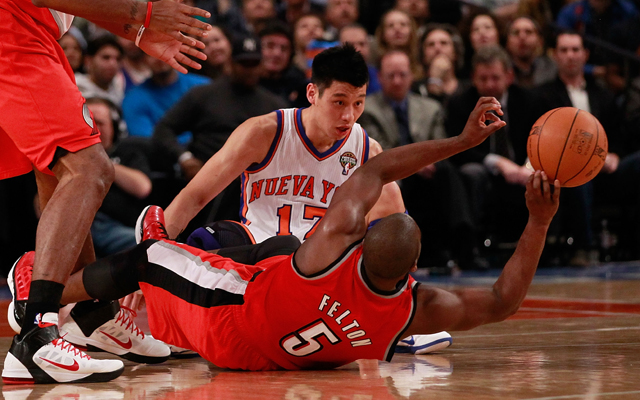 Could Raymond Felton be falling into Jeremy Lin's spot with the Knicks?
(Getty Images)
It appears that the Linsanity Era in New York could be coming to an end before it really began. 
Late Saturday evening, television reporter Mark Haggard from South Carolina tweeted that he had spoken with free agent point guard Raymond Felton. Haggard reported that Felton had told him a deal was about to be completed sending him back to the New York Knicks. Even more stunning, Haggard said that Jeremy Lin, who on Friday signed an offer sheet with the Houston Rockets for three-years, $25.1 million, would not be returning to the Knicks, as they would not match the offer sheet. 
There was nothing but rampant skepticism towards the report early on. Then minutes later, all hell broke loose.
More on Jeremy Lin
Related links
Ken Berger of CBSSports.com confirmed after the New York Daily News broke word that the Knicks had completed a sign-and-trade deal with the Portland Trail Blazers, sending Dan Gadzuric and Jared Jeffries along with a 2nd round pick to Portland for Felton in a sign-and-trade offer at a reported offer of three-years, $10 million (SI.com reports the deal at four-years, $18 million). 
The big lingering question is whether the Knicks will now match the Rockets' offer sheet. Reports are all over the place on that one, with the New York Post the only entity formally reporting the Knicks will not match the offer and let Lin head to Houston. The Rockets were unable to get the offer sheet in the Knicks' hands until late Saturday, meaning the Knicks have until late Tuesday to match the offer. This could go on for a while.
Ken Berger of CBSSports.com chimes in with a breakdown of why letting Felton go would be a smart move for the Knicks. It would have ups and down financially. Losing Lin's considerable marketing potential would be killer, but the Knicks would be hit with nearly $15 million on Lin's contract in the third year, making their luxury tax payment monstrous if the current Knicks core is kept together. 
Outside of the Lin question, the Knicks get a point guard who had just started to mesh with Amar'e Stoudemire before he was sent to Denver in the Carmelo Anthony trade. His role with the Knicks under Mike Woodson in the ISOMelo offense may shift dramatically, but Felton should not be employed as a shooter (41 percent from the field, 31 percent from three last season). It does give the Knicks options for a dual point-guard approach with either Felton, Kidd, or Lin (should the Knicks match) spending time at the two-guard spot behind J.R. Smith with Iman Shumpert recovering from injury. 
Either way, things are about to get very interesting in Gotham, and we still have so many questions left to answer. 
Jordan Bell had himself a night against Portland

The younger Ball brothers are heading to BC Prienai, but that could spell trouble

Not many games, but still plenty of action and intrigue Monday in the Association
SportsLine's advanced computer model simulated Tuesday night's Lakers-Knicks game 10,000 t...

The Reno Aces are concerned about the new WNBA franchise stealing their thunder

Hinkie parted ways with the 76ers in 2016 after drastically changing the direction of the...