Knicks Amar'e Stoudemire could be limited to 20 minutes per game
New York Knicks' high-priced big man Amar'e Stoudemire could be limited to 20 minutes per game because of his health concerns this season.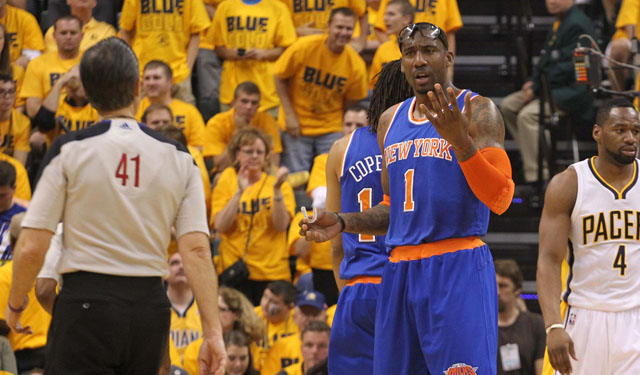 When the New York Knicks signed Amar'e Stoudemire to a five-year, $99.7 million contract, he was expected to be one of the star players for years to come. With such a hefty price tag, he was supposed to be one of the top leaders in the NBA for a Knicks team in desperate need of a new direction. Right away, he helped make the Knicks successful and less of a laughing stock than we had previously seen. Then the focus of the team was shifted to Carmelo Anthony and the injuries started piling up for Stoudemire. 
The last two years have been a huge disappointment for Stoudemire. He can't seem to get healthy enough to help this Knicks team, even if the fit with Anthony may seem a little awkward. Heading into this season, coach Mike Woodson may have to cut Stoudemire's minutes down to 20 per game in order to try to maximize the production and health of what his big man can give the team. From ESPN New York:
Mike Woodson hinted that Amar'e Stoudemire may not be allowed to play more than 20 minutes per game this season. 

"We've just got to figure out if it's going to be 10 minutes, 15, 20. We won't know at this point until he's back on the floor and seeing how things are going," Woodson said Tuesday. 

Stoudemire averaged 23.5 minutes per game last season, when he was limited to 30 minutes per game by the team's medical staff. The minutes limit proved prudent because Stoudemire needed a second knee surgery in March after he experienced soreness following a four-games-in-five nights stretch. 
If Stoudemire really does get limited to 20 minutes per game, does his price tag start to matter? He'll make $21.6 million this season and he's slated for $23.4 million in 2014-15, assuming he doesn't exercise his early termination option. It may be hard to justify paying a guy $1 million for every minute per game he averages, which makes that a hard pill for a lot of pundits and fans to swallow. However, the price is the price, and it's something the Knicks just have to accept.
Moving forward, the Knicks have to figure out how to get as much out of Stoudemire as they can without taxing his body completely and landing him back in a suit on the sidelines. He's only played in 76 of a possibly 148 games the past two seasons. Of those 76 games, he eclipsed 30 minutes in just 34 of those contests. Trying to get him to play more minutes is probably a futile goal anyway. 
The Knicks will try to turn him into a super role player of sorts and pray that he's healthy enough to find a way to mix with Anthony on both ends of the floor to make the Knicks as successful as possible. This was the plan back when he signed his big deal in the summer of 2010, but they were assuming a lot more health and a lot more minutes for Stoudemire. At this point, whatever you can get out of him is sadly just a bonus for this team.
Steve Kerr opens up about his back issues and more

OJ Mayo, banned from the NBA for positive drug test, is considering playing overseas

The King? 'LeBron, it turns out, is Aquaman,' or so the account via Dwyane Wade's wife goe...
From Penny to Thunder Dan to Pistol Pete to Agent Zero, guys who would be better in 2017

Griffin said recently he thinks it's more likely that LeBron James goes to New York than L...

Mayo was suspended for two years last summer for violating the league's anti-drug program