Knicks' Amar'e Stoudemire wants Derek Fisher to be a disciplinarian
Knicks big man Amar'e Stoudemire wants Derek Fisher to "put his foot down" in New York.
• 1 min read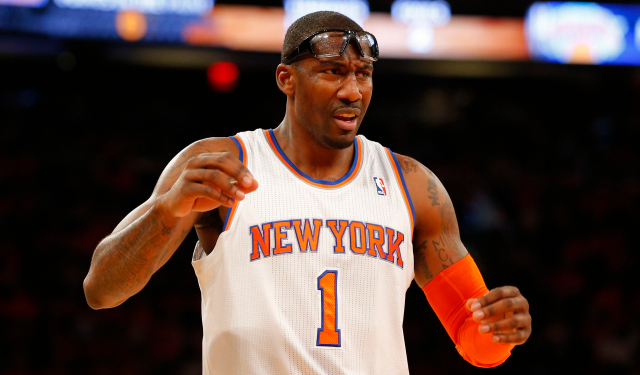 More Offseason Analysis: Coaching changes, news | Free Agency | Draft
New York Knicks power forward Amar'e Stoudemire said that he wants new head coach Derek Fisher to hold everybody in the locker room accountable, via Newsday.
"For the young players who are not as professional as they should be, I will look for him to put his foot down and really be firm about his teaching strategy and even for veteran players who don't want to buy into it, you got to put your foot down," Stoudemire told Newsday on Tuesday at the Citigroup Center Barnes & Noble in Manhattan where he signed copies of his new book, "Cooking With Amar'e: 100 Easy Recipes for Pros & Rookies in the Kitchen."

…

"I think with Phil having his back, that gives him more of a role of sort of being a disciplinarian," Stoudemire said. "Whatever Phil thinks works, I'm all with them and on board with it. Phil has a pedigree of winning and if he feels that's what's needed to win then I'm down for it."
Stoudemire added that he has no problem with playing in the triangle offense, nor does he mind Fisher's lack of coaching experience.
"For some guys, it might be an issue, but with me, I'm just a pro who wants to play the game of basketball at a high level," Stoudemire said. "At this point I know what it takes to be successful and to win."

…

"It's going to take some time for him to get around the organization and the team a little bit and figure out how everything works," Stoudemire said. "But once it's time for training camp, we should be able to kick it in full motion."
The transition period under Fisher, who was officially introduced on Tuesday, is inevitable, and it's no surprise that current Knicks will speak positively about their new coach. The major questions surrounding the team are what the roster will look like at the end of the summer, how Fisher will fill out his coaching staff and how the players will adjust to the new system. It's revealing, though, that Stoudemire brought up discipline. The departure of several key veterans from New York's 2012-2013 playoff run was often cited as a reason for the team's disappointing 2013-2014 season. If Fisher can restore some order, that could go a long way.
The investigation detailed a corrosive workplace environment

Also, when -- or rather, will -- the Warriors flip the switch?

The versatile forward has one glaring weakness, but Toronto can see it turning into a stre...
The investigation detailed a hostile workplace environment

Cousins suffered a torn Achilles tendon on Jan. 26, and will miss the rest of the season

Ingram has become one of the team's go-to players with Lonzo Ball sidelined with an injury