Knicks, Bulls, Lakers all still in mix for Carmelo Anthony
Carmelo Anthony is still considering the Knicks, Bulls and Lakers as he awaits potential roster moves that would clarify his decision, league sources told CBSSports.com.
More Offseason Analysis: Phil Jackson waiting for Melo response | Free Agency | Draft
Taking a page from LeBron James' free-agent handbook, Carmelo Anthony is in no particular hurry to make a decision. It's a three-team race between the Knicks, Bulls and Lakers, a league source told CBSSports.com Thursday, and Anthony still has some thinking to do.
While all signs pointed to Anthony agreeing to a five-year, $129.5 million deal with the Knicks by now, there has been nothing -- no decision, and no communication with the Knicks, as team president Phil Jackson revealed Thursday.
At Summer League in Las Vegas, Jackson told reporters that he'd texted Anthony since their free-agent meeting, but Anthony hasn't responded. The team that has been viewed as the strongest suitor for Anthony, Chicago, hasn't been apprised of his intentions, either -- but a league source told CBSSports.com Thursday that the Bulls and the Lakers remain under consideration for the seven-time All-Star.
Just as James has bought Heat president Pat Riley 10 days to try to upgrade the roster -- with minimal results -- Anthony's lack of commitment has given Jackson time (and applied pressure on him) to make roster upgrades. A person with knowledge of Anthony's message in his free-agent meeting with Jackson said he expressed confidence in Jackson's plan to revamp the roster after next season. But Anthony's biggest concern, the person said, was avoiding a repeat in 2014-15 of the Knicks' 37-win debacle last season -- the first time in Anthony's 11 seasons that he failed to make the playoffs.
Without other moves, signing Anthony would leave Jackson with only the taxpayer mid-level exception of $3.3 million and minimum deals to add quality players to the rotation. With the Bulls, Thunder, Lakers and Spurs in pursuit of Pau Gasol, that kind of salary hole isn't going to be enough to land the Spaniard.
The Knicks had a conversation with Philadelphia about two weeks ago regarding Amar'e Stoudemire, league sources said, but those talks never gained any traction. The Sixers and Jazz are among the teams with enough salary cap space to absorb a massive contract in return for promising players or draft picks, but Stoudemire's history of knee trouble makes his $23.4 million expiring contract especially risky.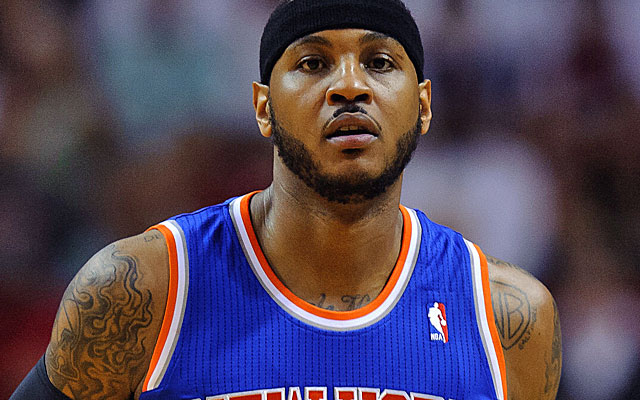 Another option would be trying to offload Andrea Bargnani's $11.5 million expiring contract, which cost the Knicks a first-round pick, two second-round picks, three players and $1.4 million cash (which killed the team's efforts to buy a first-round pick in last month's draft). Trading Bargnani would be a challenging excavation project for Jackson as he tries to put the franchise back on sound footing and show Anthony he can create flexibility to improve the roster.
Bargnani and Anthony are represented by the same agent, CAA's Leon Rose. 
According to multiple rival executives, getting a team to absorb Bargnani's contract would likely cost at least two first-round picks. Given that the Knicks' 2016 pick already goes to Denver or Toronto (from the Anthony and Bargnani trades), Jackson would likely have to part with promising shooting guard Tim Hardaway Jr. to obtain another one. Knowing the pressure is on Jackson to make a deal to appease Anthony, rival teams might ask for more -- such as Iman Shumpert, one of the executives said.
The Bulls, meanwhile, have roster moves lined up that they believe will create enough cap room to lure Anthony, who is eligible for a four-year, $96 million deal if he changes teams. That deal would start at Anthony's max of $22.5 million -- a figure the Bulls would clear if they amnestied Carlos Boozer and traded Taj Gibson and Mike Dunleavy.
Though the Lakers have been quiet in free agency, other than their attempts to retain Gasol, they have remained optimistic that they are still in the mix for Anthony. (GM Mitch Kupchak also had a meeting with LeBron James' agent, Rich Paul.) At his youth basketball academy Wednesday in Southern California, Kobe Bryant endorsed the idea of playing with Anthony and praised the Lakers for being "extremely aggressive."
"They're pulling out all the stops to ensure that we put on a contender on the floor next year," Bryant said. "That's all you can ask for. Same thing that they ask of me: When I step out on the court, they expect me to play my heart out. Right? To prepare and to give it my best shot. Sometimes it doesn't always work out the way you want it to, but at least the intention and the commitment was there."
T.J. Warren gets paid big money by the Suns in a four-year deal

Melo didn't hold back on his feelings about President Donald Trump and urges for help in Puerto...

The Wizards star says the NFL won't change until important players like Brady and Rodgers speak...
Popovich spoke at length about sports, race, culture, and politics during Spurs media day on...

Carmelo Anthony finds the idea of coming off the bench very funny

Several teams spoke about Trump's recent comments about protests and the Warriors' White House...