Knicks' Carmelo Anthony day-to-day, will be re-evaluated
New York Knicks' forward Carmelo Anthony is day-to-day with a knee injury.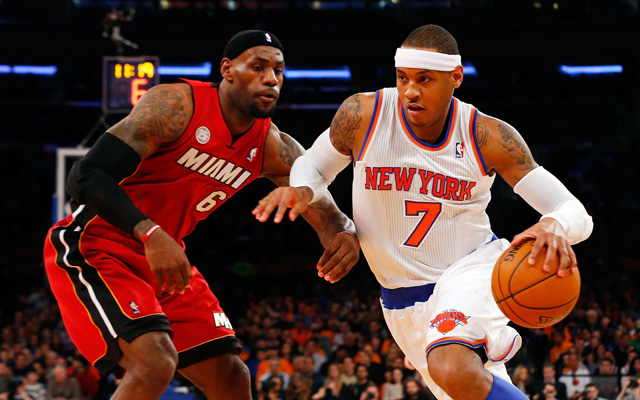 Melo is 24 hours-to-24 hours right now.
(Getty Images)
The New York Knicks might have to have a contingency plan for Wednesday in case their star forward, Carmelo Anthony, isn't available to play. After tripping without contact during the second quarter of Monday night's game against the Cleveland Cavaliers, Anthony apparently woke up this morning and didn't feel right. Via ESPN New York:
Carmelo Anthony is day-to-day with a right knee injury and will be re-evaluated before Wednesday's game against the Detroit Pistons, Knicks coach Mike Woodson said Tuesday on ESPN New York 98.7 FM's The Stephen A. Smith and Ryan Ruocco Show.

Anthony did not return after injuring his right knee in the first half of Monday's 102-97 victory over the Cleveland Cavaliers.

"Today I just woke up, and you know how some days you really don't feel right," Anthony said after the game. "I came out here and I tried to warm up and I thought it was going to loosen up before the game, but some of the things that I was doing, I felt like I was dragging it."
With the Detroit Pistons battling injuries of their own, the Knicks probably shouldn't need Carmelo to play in Wednesday night's game, but it certainly wouldn't hurt to have him in the lineup and affecting the opposing defense the way he usually does. The Knicks did manage to dispatch the Cavs on Monday night after a horrible first half.
And although a win over the Pistons would be great as New York fights for playoff positioning in the Eastern Conference (currently a half-game out of the No. 2-seed behind the Indiana Pacers), having their best player completely healthy and on the court for the long haul of the rest of the season and the playoffs is much more important than having him available against Detroit.
Melo not having any apparent structural damage after undergoing an MRI is encouraging news.
The Rockets are gunning for their 10th consecutive win

Victor Oladipo just wants to live his life and enjoy his breakout season with his new team

Keep it right here for all of the news, notes, scores, and highlights from around the Asso...
LeBron has a player option for next season, and is expected to opt out and become a free a...

The Pistons will be looking to snap a five-game losing streak when they host the Celtics on...

Bryant offers some advice for Ball and other rookies about having a sense of urgency in the...