Knicks' Carmelo Anthony: 'I want to come back; I also want to win'
In New York Knicks' exit interviews on Thursday, Carmelo Anthony told reporters he wants to come back but he also wants to win.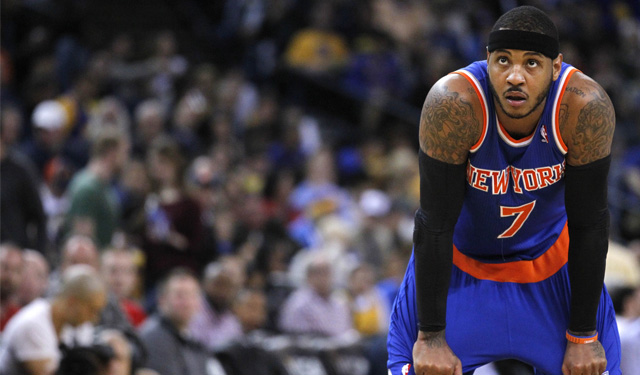 More NBA: Power Rankings | Expert Picks | Latest news & notes
Now that the New York Knicks' season is over, the next step for them is figuring out the Carmelo Anthony situation with his free agency. How much do you give him in his next contract? Can you really build your franchise and attack around him? Will he still want to re-sign with the Knicks after such a disaster of a season? These are questions Phil Jackson and company will have to figure out in the next couple months.
Anthony spoke to reporters after exit interviews with the team and made it clear he wants to come back to the Knicks but he also wants to win. He's not interested in being a part of a rebuilding effort in his next contract and wants to make sure he's in a place that can compete for a title.
Carmelo: "I want to come back. I also want to win." #Knicks

— Ian Begley (@IanBegley) April 17, 2014
Carmelo: "I'm not at the point in my career where I want to rebuild." #Knicks

— Ian Begley (@IanBegley) April 17, 2014
From Marc Berman at the New York Post:
"I want to come back," Anthony said Thursday at the Tarrytown practice facility. "I want to come back. If me wanting to be here, if we can put ourselves in a position to compete at a high level over the course of five years, whatever that contract will be, I'm willing to stay here. I never once said I wanted to leave. I always said I want to explore options and see what's out there."
This will end up being the ultimate test of what is important to Carmelo and the last parts of his prime. He's had his two best individual seasons with the Knicks the last two seasons. One resulted in a 54-win, second round of the playoffs appearance season and the other one was this disaster in which they couldn't even make the 8-seed over a battered Hawks team. Does New York have what he needs in terms of the criteria he stated above?
With Jackson orchestrating everything now, they might some day but it won't be now. They're saddled with two horrendous contracts for 2014-15 with Amar'e Stoudemire and Andrea Bargnani, and it seems like Tyson Chandler is cranky with his current situation. Anthony's other options might not be much better unless the Bulls can find a way to acquire him to pair with Joakim Noah and Derrick Rose.
We'll start finding out more between July 1 and July 10 what Melo actually wants to do.
How the Cavs star would fit with the Wolves, Knicks, Clippers, Spurs and other teams linked...

The Pistons put out a long list of details regarding their new uniforms

The Pacers traded the forward to OKC for two former lottery picks who have yet to reach their...
Gilbert said what was expected, but didn't necessarily sound all that confident

Altman addressed the media about Irving during his introductory news conference

Toronto's center has an uncertain future; can we still talk about this 25-year-old's poten...