Knicks-Celtics Game 2 Preview: Does Carmelo Anthony continue leading?
With the New York Knicks looking to extend their 1-0 series lead over the Boston Celtics, the Celtics will have to be more careful and stop Carmelo Anthony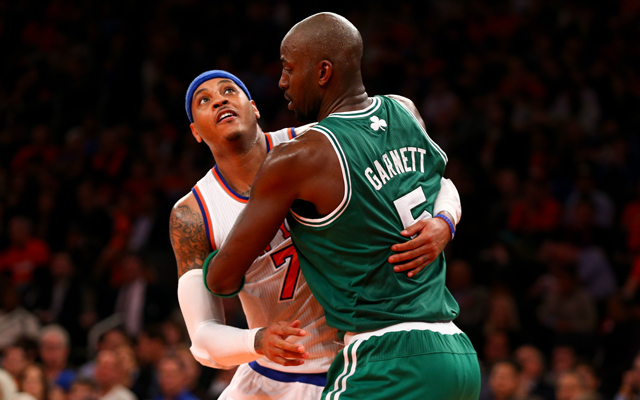 Previewing Game 2 of the Knicks-Celtics first round series.
1. Where We're At: The Knicks lead the Celtics 1-0 in the series after an 85-78 win on Saturday. There's probably a happy medium between how the Boston Celtics played in the first half of Game 1 and how they played in the second half. We just don't know if that happy medium is sustainable and enough to beat the Knicks four games out of the next six. They're not going to get many 20-point halves out of Jeff Green. They're also not going to have many halves in which they make as many shots (seven) as Carmelo. They've got to find consistency to lean on.
2. The Big Number: 21. The Celtics had 21 turnovers in the first game, which was the biggest reason they couldn't get anything going in the second half. It has a quicksand effect on a basketball team that already struggles to score. Boston was really sloppy with the ball, having passes deflected or thrown right to their opponents. The reason this results in a quicksand effect for someone like Boston is by wasting possessions that are just given to the other team, it can set panic into their offensive mindset. When that happens, they rush shots and get even sloppier with the ball because they feel like they're getting in over their head. That certainly seemed to be the case in the second half.
3. Key Adjustment: Get Jason Terry into some pick-and-roll plays. This goes for both teams. The Celtics have to find a way to defibrillate some life and good play back into Jason Terry's game. He's been so terrible with them this year (especially on the road) that you have to rhythmically get him back to the basics. Running pick-and-pops or pick-and-rolls with Kevin Garnett and Jeff Green could accomplish this. It should give him room to operate for good shots and a safety valve of dumping it off to the screener.
For the Knicks, I'd make Jason Terry play as much defense as possible to counteract any possible rhythm he might fall into on offense. He's such a terrible defender in general now, but he really can't fight around any screens or recover in an acceptable way.
4. The Big Story: Carmelo Anthony leading his team to a playoff victory. This is going to be the narrative hanging over this series until the Knicks actually get it done. And once that happens, it will become a bigger narrative in getting the Knicks back to the Eastern Conference Finals for the first time since Bill Clinton was running the country. Melo ended up coming through with this narrative in the first game. He settled down in the fourth quarter and gave the Knicks enough daggers to put in the Celtics. But he'll have to continue leading them to wins to keep the media off his back.
5. The Facts: 8 p.m. ET start time. Pablo Prigioni is probable for New York. There are no notable injuries for the Celtics, outside of Rajon Rondo and Jared Sullinger.
The Blazers guard was a guest on the Sirius XM radio show 'Sway in the Morning'

L.A. reached a three-year jersey ad patch deal with Wish, a San Francisco-based e-commerce...

John Paxson doesn't intend to buy Wade out without some sort of compromise from the 3-time...
Lonzo's signature shoes have a sleek, all-black design and will be available in November

Durant recently apologized for tweets criticizing the Thunder and Billy Donovan

Jackson says he has 'no respect' for Durant after KD created fake Twitter pages