Knicks-Celtics Game 5 Preview: I want to be a part of it
Previewing Game 5 of the Knicks-Celtics first-round series.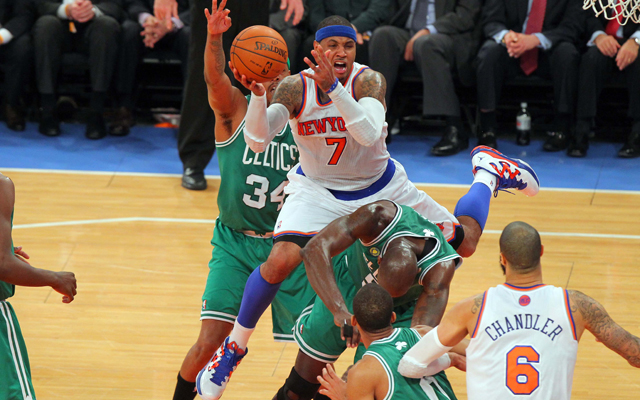 Previewing Game 5 of the Knicks-Celtics first-round series.
1. Where We Are: The New York Knicks are looking for the "gentleman's sweep" after dropping Game 4 in overtime to Jason Terry and the Boston Celtics. With a 3-1 series lead and failing to complete the traditional series sweep, the Knicks head home to Madison Square Garden to try to finally put away a battered Celtics team that barely found life in Game 4. This time, J.R. Smith will be back from his one-game suspension and able to help Carmelo Anthony out on offense. The Knicks should be able to end this series at home. 
2. The Big Number: 10. The Knicks aren't a team that gets a lot of assists, per se. In fact, when I previewed their chances of getting to the Finals, I came up with the phrase "selfish ball movement" to describe how they use passing to set up space for isolation plays. But to get just 10 assists in Game 4 when it ended up going to overtime seems inexcusable. The Knicks' ball movement has to get better, and they can't be so stagnant on offense. This is what people worried about with them heading into the playoffs. Would they just resort to hero ball? Can't do that if they expect to make it past the second round.
3. Key Adjustment: Keeping Carmelo Anthony out of the pick-and-roll. One way to get the ball movement going again is to put Melo in the pick-and-roll as the initiator. This is something the Knicks have done quite a bit over the past two seasons, and Beckley Mason over at HoopSpeak wondered if we might see the most effective scorer in pick-and-roll plays again. The only real problem Anthony tends to have on offense is the stagnation. By putting him in motion with the ball, you're either getting him a mismatch on a switch, giving him more of an angle to attack with, or getting him to shift the defense and pass to the open player. It wouldn't take much to bust the game wide open with a few minutes of this tactic.
4. The Big Story: Do the Knicks have the proverbial "killer instinct" in them? They showed it in Game 3. They didn't show it in Game 4. Will they show it in Game 5? This series should be over after Wednesday night, and it shouldn't be that close. The Knicks have plenty of firepower and enough defense to handle the job. But that doesn't mean they have the focus to get it done. They have to rally around their star and give him the room to operate so he can lead them. If they can get Melo attacking efficiently in this game, the killer instinct will flow through them.
5. The Facts: 8 p.m. ET start time. Marcus Camby is doubtful with plantar fasciitis.
There was some explosive guard play this week in the NBA's rookie class

With half of the season in the books, there were some clear favorites for our Midseason Aw...

Zack Cimini is 12-3 on picks for or against the Pistons ATS and locked in a play for Frida...
Both Washington and Detroit will try to snap losing streaks Friday night

The Hornets are reportedly looking to move their franchise point guard

We've got all the scores, highlights and news for Thursday night