Knicks-Celtics Game 6 Preview: Don't wear black to the game
Previewing Game 6 of the Knicks-Celtics first-round series.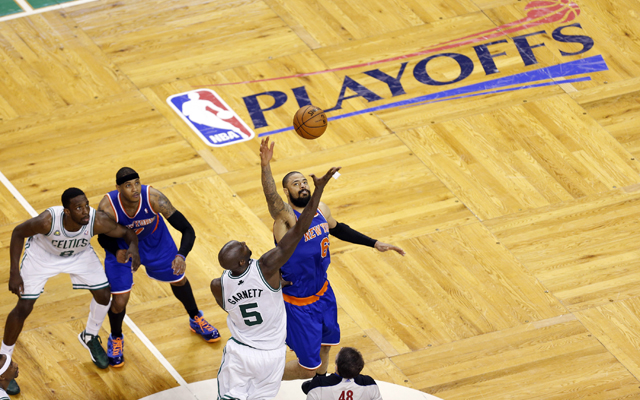 Previewing Game 6 of the Knicks-Celtics first-round series.
1. Where We Are: The New York Knicks are up 3-2, but have lost two straight to the Boston Celtics. Because of the injuries and the wear and tear of the season, the Celtics should be at a big disadvantage in this series in terms of scheme and talent on the floor. However, the Knicks are finding ways to allow them to stay in this. There was the overtime loss in Boston that kept the series alive and then the Knicks dressed in funeral attire to Game 5. The series should not still be going right now, but it is. And the Knicks have to find a way to end it in Boston or risk being the first team in NBA history to lose a series after being up 3-0.
2. The Big Number: 28.9. 28.9 percent is the combined shooting percentage of Carmelo Anthony and J.R. Smith in Game 5. This is just unacceptable play on all levels for these two players. I know you're supposed to be able to live with the bad as much as you are supposed to be able to live with the good when it comes to Smith, but he only took three of his 14 shots at the rim. And he didn't make a single shot inside the 3-point arc. For Melo, he was 5 of 10 in the restricted area and 3 of 14 everywhere else on the floor. He has to attack the basket and get to the free throw line if the shot isn't falling.
3. Key Adjustment: Get Carmelo Anthony in motion. There is way too much isolation basketball going on with the Knicks. It's more than usual too. The Knicks have to find a way to get Melo moving toward the basket to be devastating on offense. It's not that he can't score in isolation plays. It's that he's so much better at scoring in other situations that I don't know why you wouldn't want to just keep using those methods. Even if it's just getting him closer to the hoop with post-ups, it's a start to get Anthony going early so he can open up his game.
4. The Big Story: The chippiness of this series. We had Jason Terry saying the Knicks could bring Patrick Ewing on the court and it wouldn't change his mindset. We had the Knicks dressing in all black for the Celtics' funeral and J.R. Smith pretending he didn't know who Jason Terry is. Then after the victory in Game 5, the Celtics' reserves (Jordan Crawford, D.J. White, and Fab Melo) were talking trash to Carmelo Anthony and stirring up all kinds of issues that have gone viral since the end of that game. We could have a very physical game in Boston with a very hostile crowd.
5. The Facts: 7 p.m. ET start time. There are no significant injuries at this time.
Among the questionable decisions by Jackson was signing Noah to a long-term, lucrative dea...

This Akron store doesn't want their hometown hero to leave again

Milwaukee's star did not get cleared to play for his national team due to a painful knee i...
Ball, the second overall pick in the NBA Draft, is receiving even more hype

Rap mogul supports the vision the outspoken father has for his brand and sons

Deciding who to watch on League Pass can be difficult, but these rankings promise to help