Knicks' Chandler to have MRI on left knee
Tyson Chandler was added to the Knicks' wounded list Wednesday night with a sore left knee that will require an MRI. The reigning defensive player of the year left the arena on crutches, but said he's not concerned.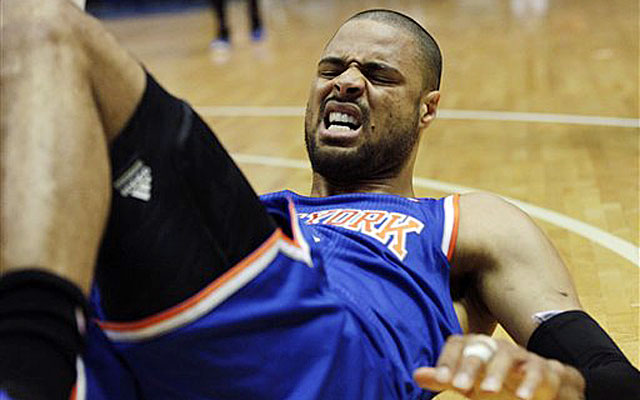 Tyson Chandler left the game on crutches. He described it as a precaution but will have an MRI on Thursday. (AP)
UNIONDALE, N.Y. -- Even as they wrapped up their preseason schedule in an old, decrepit arena, the Knicks couldn't escape the stereotypes.
Those being that they're, well, old and decrepit.
Now, they've added Tyson Chandler, who had been among their most able bodied, to the list of walking wounded.
Chandler, the reigning defensive player of the year, left Wednesday night's preseason finale against the Nets after only 44 seconds with what the team described as a "sore" left knee. Chandler then left Nassau Coliseum -- long ago the home of the Nets -- on crutches, which he described as a "precaution" ahead of his date with an MRI machine Thursday.
More on NBA
Columns

Related links
"Not much," Chandler said, when asked to described his level of concern. The Knicks' center got his left leg tangled up in a scrum under the basket in the first minute of the game and said the contact with his left knee "stretched it out a little bit."
"It's frustrating," Chandler said. "I felt great before the game. I was excited. We were up for this game and wanted to set a tone heading into the first [regular season] game. Then I looked at the stat sheet and I played 44 seconds."
Before the game, Chandler had been jovially discussing the demise of the center on the NBA All-Star ballot with reporters, and his demeanor didn't change much afterward, when he leaned against a wall -- crutches in hand -- while waiting for Jason Kidd to bring him his bag. 
"He'll be ready," teammate Carmelo Anthony predicted. "I know him. He'll be ready."
The Knicks, already without Amar'e Stoudemire for 2-3 weeks due to a cyst in his left knee and nursing an assortment of other injury and conditioning issues, have a week to get ready for the regular season opener against these same Nets in their new Brooklyn home.
If anybody cares, the Knicks beat the Nets 97-95 in overtime in the Nassau County home of the NHL's Islanders, who in a cruel twist announced earlier Wednesday they'll be joining the Nets in Brooklyn in 2015. In addition to Stoudemire and Chandler, the Knicks have been without Marcus Camby (calf), J.R. Smith (Achilles) and Iman Shumpert (recovering from knee surgery). Rasheed Wallace, attempting to come out of retirement, is still trying to get on the floor. 
"The only injury that we are concerned about right now is Amar'e," Anthony said. "We know Tyson is not that bad, and we have a week to get him back. Rasheed is doing extremely well in practice with what he's doing. J.R. and Camby and those guys are doing what they need to do to get back for that first game and maybe a couple of practices before that. So if you look at the big picture, we have guys who are making a comeback and on their way back. So the only big problem for us is missing out on one of our main guys in Amar'e."
In the absence of Stoudemire and Chandler, the Knicks' farewell to the preseason turned into the Melo show -- and for a while, it was a horror show. Anthony was 1-for-9 in the first half and finished 4-for-13 with 15 points. 
"I sat back and told myself, 'We're missing a lot of guys out there,'" Anthony said. "So when guys come back, I don't really have to put that burden on myself. Yeah, there's going to be times when I have to score; that's what I do best. I score the basketball. But for the most part, like tonight, we were moving the basketball and playing defense. We had a lot of good things happen for us."
Other than the fact that the Knicks are at least temporarily down to 40-year-old Kurt Thomas to serve as their starting center, everything seems to be working out swell. They did get solid play from the point guard spot, with Raymond Felton attacking and in command of the offense and backup Pablo Prigioni dishing out 11 assists.
"All of our point guards are playmakers," coach Mike Woodson said. "They're pass-first, shoot-second guards."
At the rate the Knicks are going, though, soon there won't be anyone left to pass to.
Westbrook's late layup gave the Thunder a 109-108 victory

LeBron became the seventh player in league history to reach the milestone

There were a few things that stood out from Tuesday's All-Star selections
Here are three players from each conference who had legitimate claims to make the game

LeBron achieved the milestone in the first quarter Tuesday

Here are the full lineups for the 2018 NBA All-Star Game