Knicks' current plan is to not match offer sheet for Jeremy Lin
Knicks will not match offer sheet for Jeremy Lin.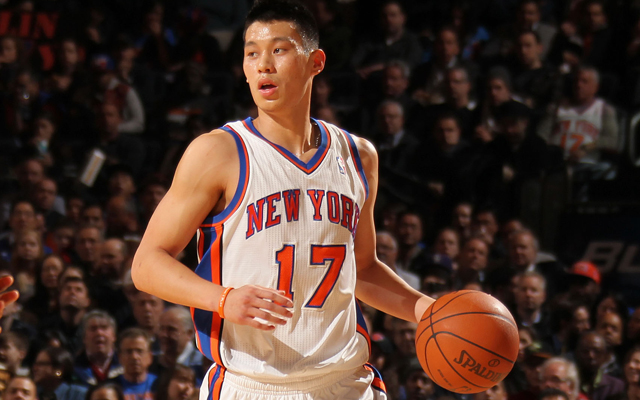 Jeremy Lin will reportedly leave the Big Apple and head to Texas to join the Rockets.

(Getty Images)
Ken Berger of CBSSports.com confirms a report by Howard Beck of the New York Times that the Knicks' current plan is to not match the three-year, $25.1 million offer sheet for Jeremy Lin, allowing the phenomenon point guard to join the Houston Rockets. 
The Knicks have until 11:59:59 p.m. Tuesday night to match the offer and no decision is final until that deadline passes. A Knicks source told CBSSports.com on Tuesday afternoon that deliberations continued, although that could be a formality in advance of the deadline.
Berger and SI.com report the Rockets have still not been notified either way. The New York Post has been reporting since the Felton sign-and-trade was agreed to that the Knicks would not match. The New York Daily News reports that the decision is not "unequivocal." The Times notes that there is a "small chance" that the decision could be reversed.
Lin signed the offer sheet on Friday, and Saturday night reports surfaced of a sign-and-trade being worked on for the Knicks to acquire free agent point guard Raymond Felton in a sign-and-trade with the Blazers. When those reports were confirmed and the deal was completed, talk shifted to whether the Knicks would match the "poison pill" offer for Lin, as Berger discussed. 
On Sunday, Carmelo Anthony referred to the contract as "ridiculous" before clarifying Monday night, saying he'd "love to have (Lin) back" as Berger reported. 
The question surrounded the $14.9 million owed in the back end of the deal, constructed as a "poison pill" contract to force the Knicks not to match out of luxury tax concerns. 
Ben Golliver of CBSSports.com reports that Knicks owner James Dolan, GM Glen Grunwald, coach Mike Woodson, guard J.R. Smith and forward Amar'e Stoudemire were in Las Vegas on Tuesday, attending the team's Summer League game against the Denver Nuggets. Golliver reports that Dolan and the front office planned to meet after the Knicks' game finished.
Woodson and Stoudemire refused to comment before departing the gym following the game.
"Can't talk, can't talk," Woodson said.
The Cavaliers are ready to reset everything if they have to. Their interest in Lou Williams...

It sounds like the Cavaliers are going to be active before the NBA trade deadline on Feb....

We've got all the scores, highlights and news for Friday night
George Hill, who is unhappy in Sacramento, could be a solution to Cleveland's backcourt si...

Shaquille O'Neal and Sir Charles cruise to an easy victory over some hot peppers

If Charlotte indeed moves its star guard, there's going to be more people impacted than just...