Knicks fans plan protest outside MSG for March 19
Knicks fans have had enough with the direction of the organization and are planning a protest outside Madison Square Garden.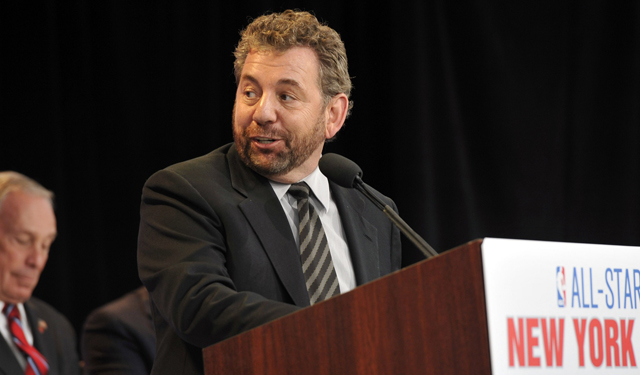 More NBA: Power Rankings | Expert Picks | Latest news, notes
Occupy MSG?
Via the New York Post, Knicks fans are planning a protest outside Madison Square Garden for March 19 against owner James Dolan and his direction of the franchise. 
That night the Knicks play the Pacers, and the group "KF4L," which stands for "Knicks Fan For Life," will hold a rally outside the arena. 
The organizers have put out this statement on their Facebook page:
"Dolan's failure to allow knowledgeable basketball people the autonomy/power to make basketball related decision ... His insistence on overriding the opinions of his basketball people by bidding against himself in negotiations and overpaying in trades

[...]

"We understand Dolan will not sell. We understand change may not come of this. We just want our voices heard. We want to remind Dolan and the NBA that our voices matter. We buy the tickets, the jerseys, the NBA League Pass subscriptions. We are frustrated. We are tired. We deserve better."
Things are not good for the Knicks. It's not just the product on the floor, but the direction of the team is cloudy, with the future completely up in the air as ownership and management have given away assets and draft picks because of a win-now mentality. 
So some fans are trying to take what they can into their own hands. It won't do much -- just like any chant at the arena won't do much -- but it's at least a visible demonstration of the angst and anger building within the fan base.
Kidd was fired by the Bucks on Monday afternoon

We've got all the scores, highlights and news from an NBA Monday

Leonard was recently shut down again to rehab the nagging quad injury
Durant, who joined the Warriors, says that Capela, the league's most efficient player, has...

Jason Kidd's firing gets the celebratory balloon treatment on Milwaukee's Twitter page

Milwaukee has parted ways with its coach in the middle of his fourth season